1.

Enter Your
Detail

2.

Receive Your
Quotes

3.

Choose Your
Garage

4.

Leave your
Feedback
Find a specialist local garage in a few clicks
| | |
| --- | --- |
| | Tell us what needs fixing in your car and we will find you the best local garage and the most competitive prices |
| | Sit back and relax. You will be contacted by specialist garages near you with their best prices |
| | Once you have received the quotes from our specialist mechanics, choose the garage for the service you require. |
| | Once the job is finished, please leave a review for the garage you chose and provide PitStopArabia.com some feedback as well |


By:

Ayshah Muhammad

22 Sep, 2020

By:

Ahmed Rostom

22 Sep, 2020

By:

Nadeem Bakshi

22 Sep, 2020

By:

Hafiz Zafar

22 Sep, 2020

By:

Lynn Fraser

08 Jun, 2023
Car Foiling &
Wrapping Services in UAE
Competitive Pricing

We offer auto foiling and wrapping services anywhere in UAE at discount & best prices.

Trusted Experts

Our top rated certified technicians using cutting edge technology to get the job done

Comprehensive Service

Get full quality car foiling and wrapping services anywhere in the UAE from PitstopArabia

Over 10,000 daily quotes

We provide tons of quotes from top car service centers from all over the country.

Foling Services for all cars

PitstopArabia car foiling and wrapping for sedans, SUV, trucks and Luxury vehicles

Fastest Response

Any question? PitstopArabia team here to respond your queries all over UAE
What is
Car Wrapping
Car Wrapping is one of the most important after-market modifications in UAE. This involves a protective layer that binds with the car surface, protecting its paint, gloss, and overall look with a range of vinyl wraps.
Car vinyl wrapping requires and experienced professional and is usually done in specialist bodyshops and car service centers. You can choose range of sizes and designs of vinyl wraps that can be applied to your car. This depends on your requirements, car type, and other preferences you have in mind such as cosmetics etc.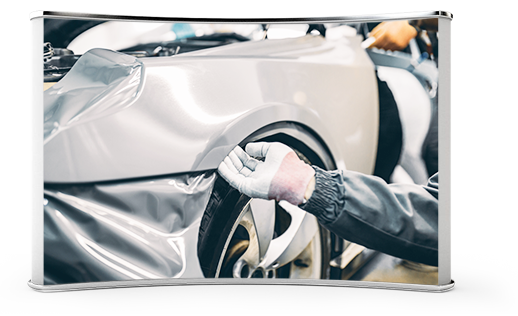 Why You Need
Car Wrapping
Car foiling can dramatically change the appearance of your car and therefore a good quality wrapping is needed to last longer. PitsStop Arabia has the biggest network of specialist car wrapping and foiling centers in UAE. Just call us and we will find the best car foiling expert for your car around your nearest location
3 Stages of Car Vinyl Wrapping
In the first stage involves design, where you have to decide exactly which wrap you want to use, how it should look like, and what sides you want to cover. For example, you can simply use a small decal applied to the side of your car. Similarly, you can also use a full body wrap that covers the entire exterior of your car. During this stage, you need to have the wrap designed, with precise measurements so the lamination fits perfectly onto the car.
The second stage involves production where the wrap is manufactured and treated. This helps protect the underlying design while the laminated plastics form protection against abrasions and UV light.
The third and final stage involves the application of the vinyl sheet. This is where the piece is fitted to the car exterior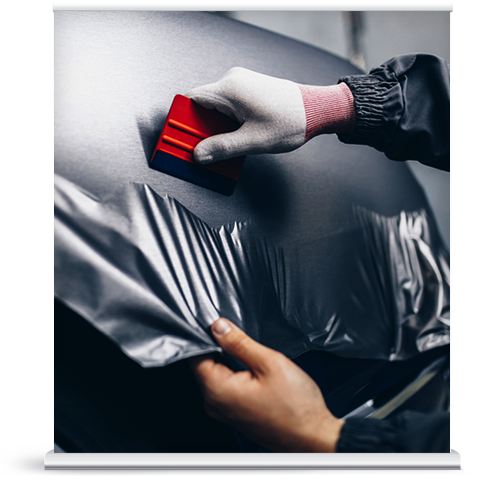 Repairing/Replacing
Vinyl Wrapping
One of the main benefits of vinyl wrap is that it can be repaired or replaced from specific areas that are damaged or worn out. The wrap can be easily reproduced and refitted for that particular area. Unlike other wrapping solutions, you will not need to replace the entire application just because of the damages in a particular area. However, if multiple areas are worn out and patches may not sync with the rest of the vinyl wrapping, then it must be replaced and redo again.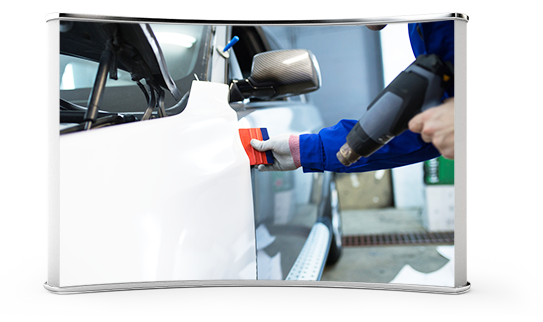 Benefits of
Vinyl Wrapping
Vinyl wraps are an ideal car surface protection solution for you vehicle, especially in harsh climates. This becomes quite essential when you own a vehicle in UAE since it is cost-effective, long lasting, safe, and convenient solution for preserving car color, surface, and condition. The advantage of vinyl wrapping is that it can be removed easily without causing any damage to the car exterior.
Since car wrapping is done in specialist bodyshops, finding a reliable center is often challenging. That is why Pitstop Arabia offers an only the most trusted, experienced and top rated service centers for car wrapping jobs. An inexperienced car wrapping job can lead to several complication such as bubbles, wrinkles, lose wrapping, and other issues.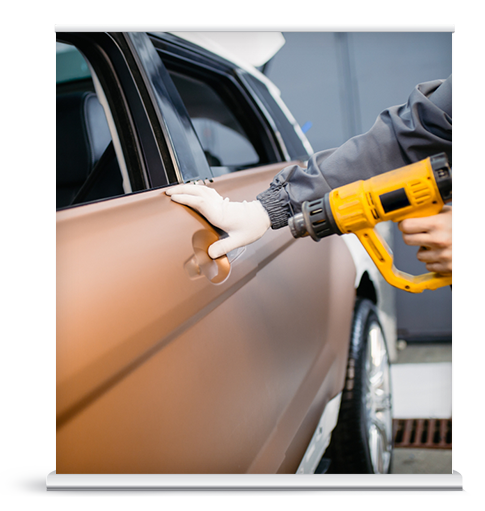 Telling DVLA About
Car Wrapping
It is the general rule of thumb to inform the DVLA – driving and vehicle licensing agency - of any aftermarket fittings or modification on your car. If you have done car wrapping, then you must inform the DVLA. There are rules and regulations that govern car wrapping and such agencies need to keep a check on it so that the facility is not used for inappropriate designs or excessively promotional content.
How We Can
Pitstop Arabia

Help?

Car wrapping is a highly recommended procedure that preserves the value and appearance of your vehicle. Therefore, your vendor needs to be experienced and well equipped for the job. Being a leading automotive services provider in the UAE, Pitstop Arabia connects you with the most reliable car foiling bodyshops. Just call us and we will take the headache of searching as we offer the best quote from garages nearest to you. Our deals are competitive and from top trusted centers in Dubai. All you need to do is fill the form above and we will come back to you pronto

Once you have the quotes, you can simply compare the price, features, and reviews and give us your final choice. Our dedicated support member will connect you with the nearest service provider.