FirstStop
Mushrif Rabdan ADNOC Autoserve, ADNOC Fuel Station, near Al Nahda National School,
Hours:

sat-thu

09:00 - 15:00 & 21:00 - 22:00

sun

12:00 - 15:00 & 21:00 - 20:00

Overall Rating




Courtesy




Cleanliness




Quality Of Service



Having a car can be a problem too as it requires regular maintenance. Your wallet might not agree to it. But instead of worrying, try FirstStop Auto. Located in Dubai, it provides you with brilliant solutions for your car – sedan, SUV, or a commercial van. Each technician is well experienced. If you are considering FirstStop Auto, know that your car is in safe hands.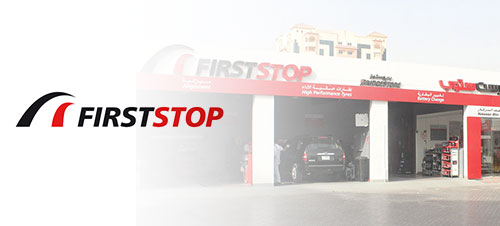 Services

available at FirstStop -Premium Partner available at

A full range of garage services
Wheel alignment

Wheel alignment with adjustment and inspection of both axles

Wheel alignment

Alignment: Wheel alignment with adjustment and inspection of both axles.

Battery Change & Test

Offering battery replacement along with testing services.

Puncture Repair

Get punctured tires repaired anywhere in the UAE

Install Run Flat Tyres

Installation of run-flat tires for high-end vehicles.

Offer a Mobile Tire Fitting Service

Mobile tire fitting service at home, office, or anywhere in UAE.

Nitrogen Filling

Offering nitrogen filling for your tires.

Wheel Rotation Services

Get your tires rotated to increase tire life & performance.

Wiper Change

We will swing by to repair or replace your wipers.
Facilities

available at FirstStop -Premium Partner

A range of customer facilities are available
Waiting Room

Offering a dedicated, air-conditioned seating room.

Men Toilets

Providing separate washrooms for the gents.

Ladies Toilet

The Ladies are provided with separate washrooms.

Child Friendly

The seating room is completely child friendly.

Air Condition

Offering air conditioned waiting area to beat the summer heat.

Beverages

Make the most of your waiting time by sipping on cold/hot beverages.

Free Wifi

Watch a video or play a game on our Free WiFi.
Installer Survey Ratings
By:

Mr. Nagarajan Ramakrishnan

Apr 08,2017

Professional service done. Very happy????

By:

andrei sima

Apr 15,2017

By:

Daniel Nelson

May 31,2017

great service - nice facility. Ramadan Kareem!

By:

Mr. SHINYA GOTO

Jun 04,2017

Good Service and Kindful Staff

By:

Mr. Shaf Hassan

Jul 17,2017

Overall they did a good job.

By:

Kevin McCallion Kevin McCallion

Aug 05,2017

By:

Mr. Aladdin Madwar

Aug 10,2017

Good professional serviceVery fast and high talanted staff

By:

Mr. RAVIKUMAR KOWTHA

Sep 11,2017

Excellent service. I would highly recommend this installer

By:

Mr. Fahaad Siddiqui

Sep 13,2017

It was professional environment and nice & clean waiting area with good customer service. 10 /10

By:

Mr. Rohit Singhal

Oct 02,2017

Great service no issues at all

By:

Faizan Shaikh Faizan Shaikh

Oct 29,2017

The people on the desk was not very welcoming. no smile nothing. while booking it said they have wifi. but they said wifi not working.

By:

karl street

Oct 30,2017

By:

Mr. Samir Abdulrahman

Nov 01,2017

By:

Mr. Joji Varghese

Nov 22,2017

By:

Thomas Larmour

Dec 06,2017

The technician who carried out the installation had an excellent attitude, and commenced the installation 45 minutes before their closing time.... Read More

The technician who carried out the installation had an excellent attitude, and commenced the installation 45 minutes before their closing time. He ran into a few problems, which meant that the installation was not completed before the regular closing time. NB: This is not a compliant, it is a compliment that he worked on diligently, without complaint and was courteous at all times. He is to be commended and I would appreciate if you pass this feedback on to him, as I will definitely recommend both Pitstop Arabia, and First Stop, on the basis of this technician's positive attitude. Read Less

By:

Mr. Mohamad Baker Agha

Jan 09,2018

By:

Mr. Aflah Anwar

Jan 14,2018

Installation took more than an hour. It can be done much quicker

By:

Dr. Yousef Alhelou

Mar 12,2018

By:

Mireille Samson

Mar 15,2018

everybody was super nice. Keep up the good work!

By:

Reed sylvester

Mar 19,2018

All worked without problems and on time. Would use aain

By:

Mrs. AURELIE Fornara-Baurain

Apr 01,2018

Professional work, provided the extra work requested (brakes deep cleaning) free of charge

By:

Mr. Robin Taulelei

Apr 19,2018

By:

Àřmããņï Khan

Apr 22,2018

It was bad experience they only give paority to there there own customer

By:

Nils Engelmann

May 15,2018

By:

Dr. Dean Cairns

May 15,2018

Excellent service. Were ready for my arrival and I waited in comfort whilst they installed the tyres.

By:

Mr. NGEE HUONG KONG

May 30,2018

Previously dropped by for basic service and inquiries and was not disappointed. Courteous staff who respond to queries to the point and... Read More

Previously dropped by for basic service and inquiries and was not disappointed. Courteous staff who respond to queries to the point and not trying hard to upsell. Read Less

By:

Mr. Kristina Wolff

Jun 19,2018

The staff was extremely friendly - in the office as well as the mechanic

By:

Mr. NIBU NAZEER

Jun 26,2018

By:

Mr. Jerry Lablache

Jul 01,2018

Incompetent, installed Tyres wrongly, lack of attention to detail

By:

anton gusarov

Jul 15,2018

Good as always. Although there is a slight vibration so I'll have to go back and re-check the balancing

By:

ABDULLA ALQUBAISI

Jul 15,2018

Experienced staff, very good and quick professional service

By:

Mr. Rodolfo Marlo Bautista

Sep 20,2018

Professional. Had to come back the next day to recheck the balancing, they did so without any charge and made sure everything was ok.

By:

Mr. Mohamed Alalawi

Sep 27,2018

By:

Mr. Laszlo Gobolos

Oct 06,2018

By:

Mr. Paul Fenton

Nov 08,2018

Great service, quick fitting and balance, great combination with the Pitstop Arabia delivery.

By:

Al-amin Yahiya

Nov 27,2018

Overall very excellent service.

By:

Mr. Chris Hewson

Dec 11,2018

I ordered the wrong tyres by mistake. The lady was really helpful in organizing for the right tyres to be delivered as quickly as... Read More

I ordered the wrong tyres by mistake. The lady was really helpful in organizing for the right tyres to be delivered as quickly as possible. Overall a very good experience. Thank you. Read Less

By:

Mr. Belal AlBlooshi

Dec 26,2018

By:

Mark Hartley

Jan 08,2019

Total time waiting for tyre install was 2 hours - due to lack of available ramps and extensive work being carried on on other vehicles.

By:

Mr. Ramu Venkataraman

Jan 08,2019

By:

Mr. Inyong Choi

Jan 30,2019

By:

Mrs. Javairia Bajwa

Mar 03,2019

By:

Mr. Julian Krawec

Mar 06,2019

By:

Mr. Abdel Hadi Mustafa

Apr 07,2019

By:

MylA Vargas

Apr 21,2019

They are very helpful and knowledgeable.

By:

Mr. FAIZEL VEETTIL

Apr 30,2019

By:

Mr. Babu Kamath

May 02,2019

Professional service ????????

By:

Mrs. Irish Belle Lim

May 02,2019

Quick installation and dealt in professional manner. Highly recommended!

By:

Mr. BERARDINO PAOLINI

May 18,2019

By:

Dr. Jangseob Han

Jun 11,2019

By:

Adam Graber

Jun 14,2019

Very knowledgeable and helpful.

By:

Mr. Ferdinand Catulin

Jun 23,2019

The shop was clean and the staff was professional

By:

Houngkeun Lee

Aug 18,2019

By:

Mr. Mohamed Arbee

Mar 09,2020

On an overall, this installer is pretty good in terms of getting the job done - People actually installing the tyres, etc are doing really... Read More

On an overall, this installer is pretty good in terms of getting the job done - People actually installing the tyres, etc are doing really great especially a chap named Hosni.Its the managers that need a lot of training and service skill. I received the sms to say the tires were delivered at the installer, further i called them to confirm and was informed the tyres are there and they have space for me to come through. So off i went. When i got there, the gentlemen came to me and i said i am here to fit my tyres which were sent from pitstop arabia. He says to me, they did not arrive. At this point, i glanced at a corner and see my tyres stacked up there. Noticed the size and Michelin (the store is a bridgestone dealer). So i say, there are my tyres. He then walks away and leaves me there.Eventually, i get in my car and line up in front of a ramp and get directed on to which my car sits there for 10 minutes until a very welcoming fitter comes to me and says what do we need to do? I advise him and he gets started. I then go into the office, and ask if there are any payment required for the balancing and installation, to which one says i need to pay for balancing and installation, i then advise him that it says on the pitstop arabia invoice that installation and balancing is included. He then begins speaking to his colleagues and does not continue to provide the info i need. I then ask how much is alignment and i would like to have it done. He ignores... I then speak to the other guy, who helps me but with many excuses as to why the previous guy ignored me. At the end of it, i walked away smiling cos i have new tyres and was happy with that. But the service by these managers was not the best. Read Less

By:

Dr. salah eldin hussein

Mar 22,2020

did not receive final message when tyers were available I had to call and attend to ADNOC to check earlier massage stated will be available ... Read More

did not receive final message when tyers were available I had to call and attend to ADNOC to check earlier massage stated will be available 530 pm and will update you Read Less

By:

Mr. Hendrie Sukendro

Jul 09,2020

The facility is very good maintained and has customer waiting area that could watch his/her car being serviced. It is clean also.

By:

Mr. Victor Niscu

Sep 24,2020

By:

Mr. Thakkiyudeen

Oct 01,2020

By:

Mrs. inge kooij

Oct 26,2020

By:

Mr. Carl Dean Shaw

Dec 27,2020

Timely and professional service.

By:

Mr. Zafirios Plakosas

Jan 23,2021

The best tracking service

By:

Rafid Azzawi

Mar 03,2021

Damaged tyre sensor during installation

By:

Mr. Eissa Alharthi

Aug 16,2021

Brought the car back due to vibration and they refused to even look at it and told me take it up with pitstop Arabia

By:

Mr. RAVIKUMAR KOWTHA

Sep 08,2021

By:

Mr. Riaz Mahomed

Sep 19,2021

Everything was completed easily.

By:

Mr. Naden taha salapuddin

Oct 07,2021

I encountered problem with the installer specially name khalid the machanic...probably maybe bacaused im a filipino and i bought the tyre... Read More

I encountered problem with the installer specially name khalid the machanic...probably maybe bacaused im a filipino and i bought the tyre from you not from them. I told khalid the old tyre to make a spare tyre instead helping me fixing it, he deformed the plastic screw of the spare tyre and now they cant removed and fix it.they just told me to go to other service station. The machanic khalid and i think the floor manager instead of helping me or say sorry i felt disrespected and the way they communicate to me is disrespectful...but the rest of the staff is nice. Read Less