1.

Provide Your
Details Online

2.

Get Immediate
Call Back

3.

Get Help At
Your Location
See all Offers
Is Your Car Telling You to Change its
Battery?
Getting a weekly inspection for your car in UAE is important for maintaining a high performing vehicle. However, poor usage and bad practices often leads to several complications with the car's battery which directly affects the vehicle's health and performance.
Your car lights start to dim

The vehicle often hitches when starting

A clicking
sound when you turn on the ignition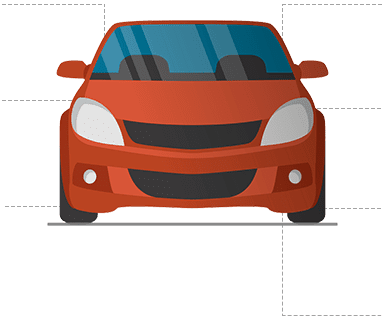 The engine cranks slowly

The connectors start to corrode

Your gas pedal needs more pressing tostart

Intermittent sparking in the engine
UAE's Finest
Battery

Replacement Services

As car lovers, we understand that nothing beats the satisfaction of smooth-running vehicle that responds instantly to the slightest command. But a well optimized car performance demands a well serviced battery, which is why PitStopArabia is here.

PitStopArabia works with the biggest network of automotive battery suppliers and provides the highest quality batteries in the most competitive rates. The batteries are guaranteed to serve their time without breaking a sweat so if you are struggling with a poor battery or are seeing signs of wearing out, it is time you get connected with PitStopArabia and get your car back on track.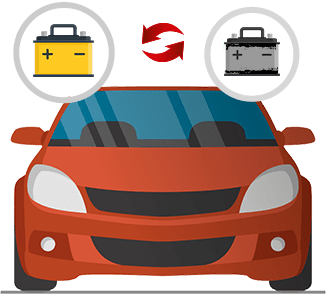 Safety Tips to Keep Your
Battery Healthy
There are some key pointers that can help you keep your battery healthy and fit to its optimum performance.
Get it Changed

Getting the battery replaced every 4 years is recommended to ensure optimum performance

Acid Level

Always check the acid levels every six months to make sure the battery is being evenly charged

Prevent Short Rides

Making too many short rides accompanied with power draining accessories prevents the battery from being fully charged

Battery Positioning

A good positioned battery prevents loss of charges, reduces corrosion on terminals, keeps the unit secure, and ensures a seamless electric supply.

Never Overcharge

Charging the battery manually is alright, but make sure you don't overcharge or you might damage it.

Refilling Water

Use a funnel to control the flow when pouring distilled water. Always be careful when doing this and only fill the cells to cover the plates.
What Makes Us
Better?
Always at Your Service

While there are several battery replacement providers in Dubai, very few offer their services round the clock. PitStopArabia has its support professionals online 24/7 so you always get job done anytime, anywhere.

Experienced Professionals

All our technicians are certified with at least 4 years' of experience. Being a professional is crucial since your car demands several diagnostics before a new battery can be installed.

Service Warranty

We always prefer the comfort and safety of our clients over anything. That is why our batteries and services come with a generous warranty so you have the liberty to demand a refund or a replacement.

Authentic Products

We hail from an extensive automotive services background and only associate with trusted and reliable brands such as AC Delco, Amaron, Zeetex, Solite, Duracell, Bosch, Platinum, SBK, VARTA, and Energizer.

Market Competitive Pricing

Aside from having massive network of battery suppliers and world-class technicians, we also have a very reasonable pricing. We offer competitively priced batteries included with bonus services such as delivery, installation and diagnostics.

Support

Our Support Team is always at your service with live agents ready to receive your calls 24/7. Whether you are aware of your battery model or not, its size, or any other specifications, our expert staff is well versed in every battery type to guide you and recommend the best fit for your vehicle.
Reviews
I was hesitant to use PitStopArabia's battery service as they are relatively new in the market. But a friend of mine who bought tyres from them convinced me to try them. I must say that I am quite satisfied with their service.

I bought my car battery from them recently. I was skeptical at first. But so far no issues.

Not satisfied fully as the battery is still causing problems.

So far the battery works fine. Quite impresses with customer service.

Quite professional & friendly service. Dependable too. Battery is working perfectly.

Honestly, friend recommended me their service. Was not hoping for much. But they won me over with their professionalism & quality work.
The delivery was well before the due date. Also, the guys were thoroughly pros.

I came to know about PitStopArabia through Facebook. At first, I did not think much. But when I needed a car battery. I think of trying it. So, I contacted them. The service was very good.
View more

faqs
Which types of batteries do you provide?

We provide all types of car batteries including calcium & AGM batteries.

What about the quality of the batteries?

All the products we sell meet the requirements set by the relevant UAE authorities.

Why is there a significant difference in the prices?

The difference is due to the type and quality of batteries.

How can I purchase a battery from PitStopArabia?

First, you are required to enter your information. Then, a representative from PitStopArabia will contact you. Once the order is confirmed we will dispatch the battery at the desired location.

Is the battery under warranty?

Each battery comes with a standard warranty. The warranty is void if the battery is used in a non-recommended way.

How much water should be in my car battery?

There is an indication on the car battery for the recommended level. It is advisable to keep the fluid level at that indicator.

Do I need to charge my new car battery?

A new battery has plenty of charge. Therefore, you do not need to charge it.

What do I do with my old car battery?

Car batteries are recyclable. You can return the battery to us while we install the new battery for you so we can dispose of it in the right manner. Or you can give it to an authorized recycling centre.

Are batteries eco-friendly?

Yes, modern batteries are 99% recyclable.

Can I recharge my friend's battery through my own?

Previously it was possible without damaging the vehicle. Now, modern cars are basically computers on wheels. Recharging/boosting a car through your own car send electrical surge which can damage electronic components in your vehicle.

Will excessive heat damage by battery?

The answer is 'Yes'. But all our batteries meet UAE specifications. Therefore, you do not need to worry about heat damage.