1.

Select services and provide details

2.

Get best quotation

3.

Get the services anywhere
UAE's Biggest
Car Brake

Service Hub
Inspection, Service,
and Repair

Routine brake inspection is crucial for your car's optimal performance. We offer inspection, repair and service for all types of brake parts, car models and makes

Replacement of
Brake Parts

Every brake part needs replacement at some point of its tenure. Pitstop Arabia provides the fast, high-quality, and onsite car brake installation service in UAEs

We Only Use
OEM Parts

We connect you with UAE's most trusted car brake experts who only use OEM parts so there is absolutely no compromise on quality and safety.
In
Brakes

We trust

Timely servicing or replacing your vehicle's worn-out brake system is critical for ensuring your car performs as efficiently and effectively as it was originally designed. Pitstop Arabia connects you with UAE's biggest network of Car Brake service providers so you get the fastest, most trusted and competitively priced services in town.
Trusted and Top Rated
Service/replacement of brake shoe brake or pad, resurfacing
brake rotors or drum, replacement of brake fluids
Using cutting edge technology, the expert technicians inspect
every element of your braking system
Brake service and replacement for both passenger and
fleet/commercial vehicle needs
After service/installation assessment to ensure optimal
performance of the vehicle
Using Pitstop Arabia you save up to 40% compared to taking
your car to a random auto repair shop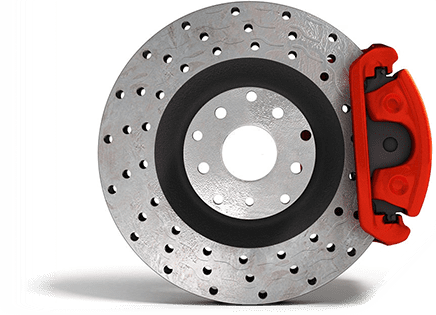 Highest Quality
Fastest response and expert counseling through 24/7 support team

We only provide OEM brake parts from authorized distributors

Biggest network of authorized car brake service providers in UAE

Onsite installation through trained technicians and hardware experts

Premier warranty of brake parts, 1-year or 25,000 kilometers
Complete Brake Services
Computer controlled diagnostics to pinpoint exact area of
dysfunction in braking system
Replacement services for parking brake shoe, rear brake shoes,
brake pad, brake rotor, calipers, drum hardware, master cylinder,
brake hoses, and break cable, etc.
Complete brake light inspection, hand brake repair, brake disc
skimming, brake oil change / brake fluid change
Precise resurfacing of brake discs to guarantee a perfect fit
between rotor/disc and brake pads
State-of-the-art brake skimming to ensure less braking
vibration and noise from the system
Signs Your
Car Brakes

Need a Time-Out
Brake Warning Light

Amber glowing of the brake dashboard light, which basically indicates that your anti-lock brake system (ABS) is having problems

Steering Wheel Shaking

When brake rotors are distorted, the steering wheel starts to shake. This usually happens when brake rotors are exposed to extreme heat

Spongy Brakes

The brakes often become spongy when air enters the brake system. This is a sign that your brake fluid needs to be removed of air or bled.

Squealing and Grinding

Squealing and grinding are all unmistakable signs that there is something seriously off, from dust build up and contaminated brakes, to worn out brake pads
Reviews
I did not know about PitStopArabia before my friend told me. I went for brake checkup. Service & staff is good.

review by

Muhammad Toqeer

The people were very professional & they take very little time to fix my issue.

The service was just okay.

I went for my scheduled checkup. Surprisingly, I did not have to wait even for a minute. The staff checked my car & diagnosed that the rotors were worn. They replaced them. Now, I don't feel vibration in my car.

Quality of work done is very good. Highly recommend to others.

Don't waste any time to diagnose the issue.
faqs
How often should I get my brakes checked?

Once a year is recommended. However, if you feel that the brakes are not working properly, it is advisable to get them checked right away.

What is brake fluid?

Brake fluid is what makes your brakes work. When you press down the brake pedal, the fluid is sent to each caliper by the brake lines. The fluid activates the brake pads. It then creates the necessary friction to stop the car.

For how long does brake fluid last?

If the brake fluid is unused & sealed in a bottle, it lasts for 2 years. Once you put it inside your car, its life depends upon how you use your brakes. Nevertheless, it is advisable to have your brake fluid changed every two years. The reason is that it absorbs moisture which reduces its performance.

How to detect brake fluid leak?

Brake fluid leak is very hard to detect. But in most cases, you will find something similar to motor oil leaking from underneath. In that case, drive your car into the nearest service centre to have it professionally checked.

What are rotors?

Brake rotors are also referred to as disc brakes. They are the circular discs located with each tire. Rotors create the necessary friction for slowing down a vehicle.

How often should I get my rotors checked?

There is no standard duration. Nevertheless, you should get them checked at least once every year. The life of rotors depends on a lot of factors including your vehicle type and driving style.

Why does my brake vibrate when I push down on the brake pedal?

The most common reason is that the rotors are unevenly worn. In case you feel vibration, get your brakes checked right away.

What is the average cost of repairing car brakes?

It depends on the damage. Brake repairing costs vary from component to component.