1.

Select services and provide details

2.

Get best quotation

3.

Get the services anywhere
MOBILE TYRE FITTING

iN UAE?

We prioritize your convenience and time. That's why our cutting-edge Mobile Tyre fitment and Tyre Repair service ensures that every driver can get their tyres fixed or replaced no matter where they are on the road.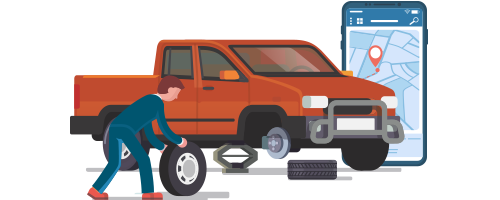 Our Mobile Tyre changing and fitment service brings expertise to you, providing quick and convenient solutions. Even if you've purchased new car tyres online, we'll fit them on your vehicle right on the spot!
Our Mobile tyre fitting services have made buying and fitting tyres incredibly easy for everyone. Our mobile van will reach your desired location anywhere in the UAE, be it your home or office, at a time that fits your busy schedule.
Mobile Tyre Changing

and Fitment Services

Need a mobile tyre changing service in the UAE? We offer a hassle-free and time-saving service to install or replace tyres at your home, office, or any other location.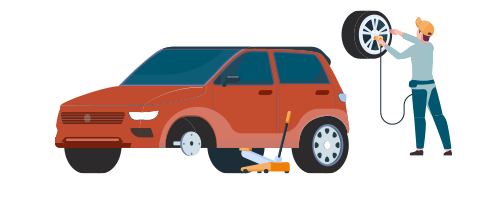 We are a trusted and reputable mobile tyre service provider with +8 years of experience and a strong presence in the UAE. With branches in Dubai, Sharjah, and Abu Dhabi, we can get you back on the road quickly, no matter where you are in the country.
We partner with the most extensive network of tyre installers, offering unparalleled mobile tyre installation and repair services throughout Dubai and the UAE. With a proven track record and a robust presence in the region, PitStopArabia is the trusted and reputable choice for all your mobile tyre needs.
What To Expect From Our
Mobile Tyre Fitting

Services?

We offer quick and efficient on-site Mobile tyre fitting and maintenance services ranging from mobile tyre puncture repair to wheel balancing testing.
Mobile Tyre Replacement

We can replace your tyres at any location, whether it's on the side of the road or in a parking lot, and you can choose from a wide range of tyres to find the perfect match for your car.

Tyre Puncture Repair

Get your flat or punctured tyres on the go with our Mobile tire fitting services in Dubai. We will repair and install your punctured tyre at your doorstep.

Wheel Balancing Services

With our wheel balancing services in UAE, we make sure that your tyres are properly balanced and have reduced vibrations while driving to ensure a safe journey.

On-Site Battery Replacement

Our Mobile tyre fitting and battery replacement technicians will check and replace your battery anywhere on-site in Dubai, Sharjah, Abu-Dhabi, and all over UAE.

Tyre Pressure Check and Maintenance

PitstopArabia's mobile tyre fitting van is equipped with all the tools required to check tire pressure and adjust accordingly to ensure fuel efficiency, safety, and tyre lifespan.

Tyre Tread Inspection

Our mobile technicians will inspect the tread of your tyre anyplace you want to make sure that they are kept from being worn down too much.
What Makes
PITSTOPARABIA Mobile Tyre Fitting Services

Stand Out?
24-Hour Roadside Assistance

Our mobile tyre fitting services offer quick and 24x7 roadside assistance. PitstopArabia has a constantly expanding network of fitters and technicians throughout the UAE who are available 24/7 to serve customers.

Quick Service

We maintain high brand availability, so we have the replacement tire you need and fix your tire quickly and easily.

Top-Rated Customer Service

PitstopArabia provides mobile tire fitting and maintenance services to a wide range of industries, offering exceptional service to our customers.

Market Competitive Pricing

As the top mobile tyre fitting service provider in Dubai, we guarantee top-notch service and quality while providing our customers with the most affordable prices.
Reviews
Fast and reliable service! The mobile tyre fitting service in UAE was a lifesaver when I had a flat tyre on the highway. They arrived promptly, repaired the tyre efficiently, and had me back on the road in no time. Highly recommended!

Convenient and professional! I was amazed by the level of professionalism and convenience offered by the mobile tyre fitting service in UAE. They came to my location, assessed the issue, and fixed it with expertise. The whole process was hassle-free, and the team was friendly and knowledgeable.

Efficient and customer-oriented! The mobile tyre fitting service in UAE exceeded my expectations. They responded promptly to my call, arrived at my location in no time, and repaired the punctured tyre efficiently. The technicians were polite and ensured I was satisfied with the result. I would highly recommend their services.

Convenience at its best! The mobile tyre fitting service in UAE provided exceptional convenience when I needed it the most. Their expert technicians arrived equipped with all the necessary tools and knowledge to fix my tyre problem efficiently. It saved me time and effort, and the service was worth every penny.
faqs
What mobile tyre fitting services do we provide?

Our mobile tyre repairing services in UAE include:

Tyre puncture repair
Tyre Replacement and fitting
Wheel Balancing
Air filling and pressure check
On-Site battery replacement

Can the Tyre Change service be done inside a parking garage?

Yes, we offer mobile tyre replacement services anywhere you want, including the parking garage. For a garage, as long as there is at least a two-meter space between your car and any surrounding objects, we can offer you all the services.

Which areas do we cover in the UAE?

We offer high-quality and efficient mobile tyre repair and replacement services in areas including Dubai, Sharjah, Abu-Dhabi, and all over the UAE.

How Long Does An Emergency Repair Take?

On average, our mobile tyre repair service lasts up to 60 to 90 minutes, but most commonly, 15 – 20 minutes.

What is the cost of a mobile tyre repair service in the UAE?

The price of mobile tyre repair in the UAE depends on the type of repair, the size of the tyre, and where you are. Typically, a standard tyre repair can cost,

Puncture repair: AED 100-200
Tyre replacement: AED 200-500
Wheel balancing: AED 50-100
Nitrogen filling: AED 10-20 per tyre

The above mentioned prices may vary depending upon the economic condition of the market.