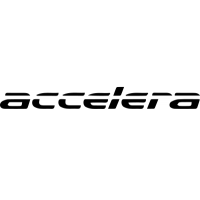 Accelera Tyres
Accelera tires are manufactured by an Indonesian company known for the high-quality car tyres in the tire market. The main goal of the company was to develop the best-in-class performance tyre that has maximum safety features. If you choose to purchase Accelera tires in UAE, you can get a strong grip, a smoother ride, and a comfortable driving experience.
The company made the Accelera tyres using DeltaMax technology which is a combination of silica compound that provides improved on-road grip and matchless performance. It is designed to deliver optimal performance for long drives without increasing tire noise and emission of car dioxide. Accelera has become one of the best tyre in the automotive industry thanks to its design, quality, and performance. ... Read more
This brand is a complete package of safety, performance, and durability for UAE drivers and passengers. It caters to all types of vehicles on the road, from vans to cars to SUVs, and many drivers put it on their tyre wish list. The company keeps its tire up to date with all the latest developments, increasing their functionality by offering more grip and reliability when driving on the road.
Buy Online Accelera Tyres In UAE
Are your old tires need tire replacement? Accelera tyres are the best choice for your mid-size sedans, passenger cars, and SUVs. This tire offers the best style, performance, and safety.
It is developed by an Indonesian company with an environmentally friendly material, delivering exceptional performance at an affordable price. Accelera tires in Dubai are quite popular among fleet owners looking for quality and durability at market competitive prices. If you are looking for an economical option, then Accelerate tyres offer the best deals.
These tyres are developed using the world-famous DeltaMax technology and are specially designed to absorb extra shock. Due to this, acceleration and cornering speed are all greatly increased, making it one of the best car tyre available on the market. PitStopArabia is a leading tyre shop providing genuine and authentic Accelera car tyres in Dubai, Abu Dhabi, and all over the UAE.
In the past few years, we have built strong partnerships with some of the world's leading tyre manufacturers. What makes us apart from our competitors is that we have a huge range of products catalog, including Accelera tires that are available at affordable prices possible. Browse through our tyre collection and choose the ones best match your car's specifications.
Accelera Tyre Price In Dubai - Accelera Tire Installation And Free Shipping
Are you thinking of purchasing new Accelera tires online in UAE? At PitStopArabia, we take pride in ourselves by offering an extensive range of Accelera products. We have a dedicated team of car experts that ensure easy access to some great quality tires across Abu Dhabi over the internet.
Our company understands how an ordinary man worries about the availability of a specific tire brand within his defined budget. To cater to the needs of the common men, sportsmen, and professionals, we are making it happen to deliver international quality Accelera tires at affordable prices. Furthermore, we facilitate our customers with free shipping as well so that they don't have to incur more than the actual cost of tires. For inquiries, please dial +971 4 432 7676 and talk to one of our friendly representatives.
Read less