1.

Enter Your
Detail

2.

Receive Your
Quotes

3.

Choose Your
Garage

4.

Leave your
Feedback
Find a specialist local garage in a few clicks
| | |
| --- | --- |
| | Tell us what needs fixing in your car and we will find you the best local garage and the most competitive prices |
| | Sit back and relax. You will be contacted by specialist garages near you with their best prices |
| | Once you have received the quotes from our specialist mechanics, choose the garage for the service you require. |
| | Once the job is finished, please leave a review for the garage you chose and provide PitStopArabia.com some feedback as well |


By:

Ayshah Muhammad

22 Sep, 2020

By:

Ahmed Rostom

22 Sep, 2020

By:

Nadeem Bakshi

22 Sep, 2020

By:

Hafiz Zafar

22 Sep, 2020

By:

Lynn Fraser

08 Jun, 2023
Why Choose PitStopArabia for
Car Repair Services
Abu Dhabi
Best Support

Our support team is your saviors as it is available on a call to resolve your query soon.

Car enthusiasts

We have the kind of professionals who are enthusiast and passionate about car repairs.

Comprehensive Service

With collaboration with car specialists in UAE, we can serve our customers far and wide.

Resourceful Portal

Our web portal connects you thousands of skilled and trained & high-rated workshops.

User Friendly Portal

PitStopArabia is an example of finest user experience in searching workshops in UAE.

Quick updates

Know what is going on with your beloved car with our timely updates and notifications.
Car Repair Services
Abu dhabi
PitStopArabia is the finest platform to connect with authentic and reliable car repair service providers in Abu Dhabi nearest to your home or work location. We bring you only the best among car workshops, garages, and mechanics to help you hire that best understands your car specifications and the right procedure to follow in fixing it. Visit the home page and find a dedicated string of car repair services available in Abu Dhabi.

The common car
issues

you may face

Cars are meant to be maintained with love and care. You may easily buy it but finding the right mechanic or garage that truly understands its mechanism and knows how to take great care of it. Abu Dhabi is hot and humid where you should pay more attention to looking after the vehicle you drive to prevent sudden car breakups. Following are some of the common car issues you can come across in Abu Dhabi.
Car Battery

Your car battery may break down in between a journey and stop
igniting the car. Get it examined by our experts for corroded or
loose connections, acid and water levels, and useful life.

Car AC malfunction

One cannot travel without AC in the summers in Abu Dhabi
and most of the states of the UAE. Let our mechanics inspect
and repair it before you experience a sweaty journey.

Oil and filter change

Suggestions for oil change depending on the make and model of
your car, and your driving style. Get them changed by experts
to avoid your car engine getting seized.

Car transmission

You find no power in the car, transmission slipping or
leakage, or observing burning smell if something is wrong with
the transmission. We provide solutions for all these.

car Engine Repairs

A car engine may come across several issues. The engine may
not break down all of a sudden as it gives you signs like excessive
smoke,knocking sound, stalling, and fluid leakages.

Regular Car Inspection

To keep your car well maintained, you need to visit a reliable
workshop regularly so that minor issues can be resolved on the
spot rather than letting them result in major issues.
Why need auto repair in
Abu Dhabi
Car breakdown is as uncertain as to the weather. Despite regular visits and inspections by an expert mechanic, your car may stop in the mid of the journey and you will be clueless as to what to do and whom to call. Abu Dhabi is blessed with expert mechanics, but searching, reaching, and contacting them for roadside assistance makes it a chaotic situation. PitStopArabia steps it here for your ease and comfort with its magnanimous web portal that connects you with hundreds of skilled mechanics, workshops, and garages nearest to your location. You can find professionals for repairs and replacement services for any make and model of your car. We have tested and networked with the best of the best mechanics, service centers, and car laboratories so that you get service more than what your car deserves.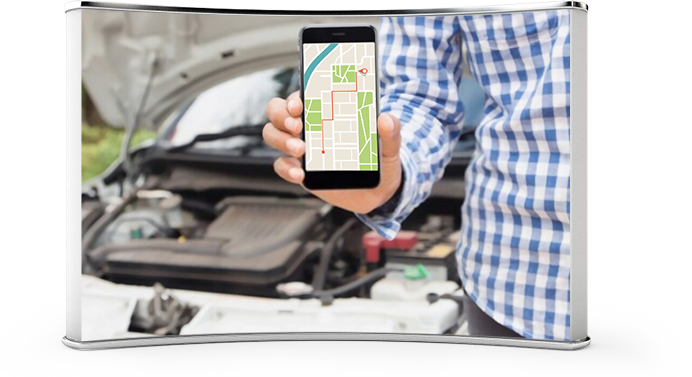 Why PitStopArabia is preferred
the most in
Abu Dhabi
The foundation of PitStopArabia is built upon the values of serving the car owners of Abu Dhabi with top-notch car repairs and maintenance services. The website has garnered top workshops and garages of the city on a dedicated platform with easy and simple navigation for users to search for what they want. The locals who were struggling to find the right workshop for their specific cars can now log on to PitStopArabia and access the huge database of experts near them. Their desire to work with well-trained, well-groomed and experienced mechanics is fulfilled by PitStopArabia, which is the reason our clients trust and prefer us the most. Let's go into more detail as to why our customers prefer PitStopArabia
Top of the line support

Our support team is your saviors as it is available on a call to resolve your query as soon as possible. Ask them and it is done.

A bunch of car experts

We have complete data of the car mechanics who are trained, and certified by our selection team to ensure you get the best services.

Serving across the uae

We have collaborated with car specialists in UAE so if you are away from home or visiting any other state, you still avails of our services.

True and fair listings

We project the true talent of professionals and workshops. They have to pass our rigorous criteria before getting enlisted here.

Resourceful Portal

Our website is example of the modern technology and UX that even a web novice can use and navigate to the auto industry resources.

Timely updates

PitStopArabia keeps you well-informed about the progress in your ongoing car repair so that you are in the possession of what is going on.