1.

Enter Your
Detail

2.

Receive Your
Quotes

3.

Choose Your
Garage

4.

Leave your
Feedback
Find a specialist local garage in a few clicks
| | |
| --- | --- |
| | Tell us what needs fixing in your car and we will find you the best local garage and the most competitive prices |
| | Sit back and relax. You will be contacted by specialist garages near you with their best prices |
| | Once you have received the quotes from our specialist mechanics, choose the garage for the service you require. |
| | Once the job is finished, please leave a review for the garage you chose and provide PitStopArabia.com some feedback as well |


By:

Ayshah Muhammad

22 Sep, 2020

By:

Ahmed Rostom

22 Sep, 2020

By:

Nadeem Bakshi

22 Sep, 2020

By:

Hafiz Zafar

22 Sep, 2020

By:

Lynn Fraser

08 Jun, 2023
Why Select PitstopArabia for Cadillac
repairs
Luxury cars like Cadillac demand royal care and treatment that's why rely on any random workshop will never suffice the repairs needs of your favorite ride. PitstopArabia relieves you in the search of a faithful and dependable garage where you can find mechanics with the finest skills and exposure to the supreme technology and distinct structure of your car. Have a look at our quality traits that sets us apart.
100% Quality Assurance

We endorse only the skilled and
reliable repair resources for Cadillac
to assure the best quality services.

User-Friendly Platform

Our purpose-built portal provides
an optimum user experience that helps
easily finding repair services.

Hassle-Free Repairs

With our portable workshop option,
you can avail the ease and comfort
of getting doorstep repairs.

Countrywide Coverage

Search for Cadillac experts
anywhere in the UAE and our portal
will come up with the best options.

Ultimate Support

PitstopArabia is charged by
professional personnel to that provides
you timely support and updates.

Expansive network

We have an expanded network
of professional car experts and certified
workshops to recommend.
Cadillac

Repair & services

Cadillac is among the oldest automobile brands across the globe. Its strong beginning and precise and finest tuning made it a hot commodity for more than a century. It became a leader for the comfort, reliability, innovation, and luxury is offered to the people. To retain the company-like condition of such a luxury car, you must rely on certified car experts and dependable workshops. PitstopArabia brings you the facility to quickly find talented individuals and reliable garages to take your precious car for repair and services nearest to your location in the UAE.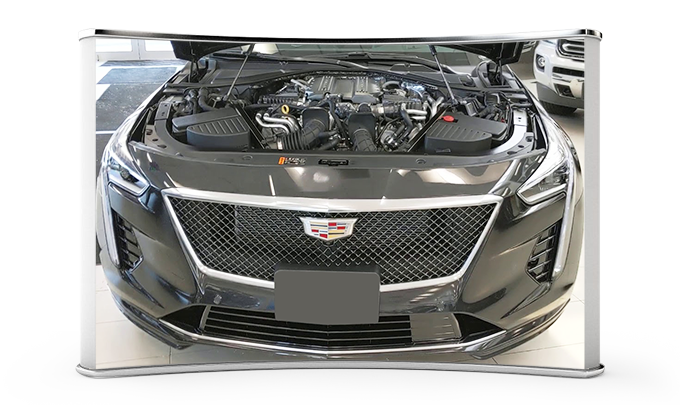 Why You Must rely on
Cadillac
Certified

Service?

Cadillac is a renowned automobile brand that is famous for its brilliant protection plan. To get all the company-operated benefits in the UAE, you must rely on a Cadillac certified service shop. They are caring and loyal to their esteemed customers. PitstopArabia makes it happen with its vast collaboration with certified garages and workshops to ensure you find the right place for all your car repairs and maintenance needs.
Chief Technicians

A Cadillac certified service is home to professional and well-trained technicians having years of experience in dealing with almost every variant of Cadillac vehicles.

Exceptional Repairs

A technician trained by car veterans and engineers of the manufacturers ensures you exceptional and outstanding repairs and services for their immense exposure.

Branded Parts

In a market full of replicas, finding genuine spare parts for your jewel is only possible with certified Cadillac service shops. Feel pride getting branded parts only.
What are the
Common

Issues
you may face in cadillac?

Seamless drive, style, and comfort combine to form luxury cars like Cadillac. These machines are equipped with cutting edge technology that's why they need care and maintenance quite different than ordinary cars. The common issues you may face in driving a Cadillac are also a bit different so you better need to know and study them before vending out on different workshops. Following are some of the problems reports in these cars.
AC condenser Leak

The air conditioner of your Cadillac may fail to provide the due coolness if the condenser or the coolants are leaking. If you are facing the heat of hot weather conditions in the UAE despite owning a luxury car, get it checked immediately to an expert.

Hanged Touch Screen

The CUE screens of your Cadillac vehicle may malfunction. The weary or cracked touch screen may stop responding to your commands. It can turn into frustration as soon as you realize that the radio, media, and HVAC controls are not working.

Water in Headlights

Despite the hot summer conditions, the headlights of your Cadillac vehicle may accumulate moisture in raining and foggy seasons. It may lead to burnout of the lights which may blur your drive vision. Get it inspected for defective seals and other issues.

Disengaged Shifter

It is one of the common problems reported in Cadillac vehicles. The reason can be the improper installation of the cable that connects the shifter with the transmission. Rely on professionals to ensure the cables are installed with precision.

Engine Oil

Cadillac vehicles also require schedule oil checks and replacements to ensure a smooth & healthy engine. The oil keeps the engine well lubricated. Failure to comply with recommended oil change practices may lead to severe consequences.

Braking Issues

The soundness of brakes is as important to a vehicle as to the gasoline. You must avoid traveling if the brakes are not working properly. It is a common issue that's why you must keep a check on any smell or noise coming out of the brakes.