1.

Enter Your
Detail

2.

Receive Your
Quotes

3.

Choose Your
Garage

4.

Leave your
Feedback
Find a specialist local garage in a few clicks
| | |
| --- | --- |
| | Tell us what needs fixing in your car and we will find you the best local garage and the most competitive prices |
| | Sit back and relax. You will be contacted by specialist garages near you with their best prices |
| | Once you have received the quotes from our specialist mechanics, choose the garage for the service you require. |
| | Once the job is finished, please leave a review for the garage you chose and provide PitStopArabia.com some feedback as well |


By:

Ayshah Muhammad

22 Sep, 2020

By:

Ahmed Rostom

22 Sep, 2020

By:

Nadeem Bakshi

22 Sep, 2020

By:

Hafiz Zafar

22 Sep, 2020

By:

Lynn Fraser

08 Jun, 2023
Engine
Coolant Repair Services
Competitive Pricing

Get the auto engine cooling and coolant repair with onsite repair facility in the UAE.

Trusted Experts

PitstopArabia have a team of top rated certified professionals and garages with top reviews

Comprehensive Service

Get full inspection and repair of your car engine coolant system -100% satisfaction

Over 10,000 daily quotes

Car care center – PitStopArabia provide tons of quotes every day for clients in UAE

for all types of cars

We provide Engine and Cooling System repair for sedans, SUV, trucks and Luxury vehicles

Fastest Response

Our certified team is here to respond to your queries regarding Engine Coolant in short time
Get Car
Engine Cooling

and Repair Fast and Easy

Having an expert mechanic at your disposal is imperative, especially when you are driving in Dubai where temperatures can go as high as 52.8 °C. Here, encountering engine and cooling issues is not something out of the norm. At Pitstop Arabia, we understand the everyday struggle of UAE car owners when driving their vehicles. That is why we connect you with the biggest network of garages, service centers, and repair shops to make your drive convenient, relaxing, and fun. Our process is simple, you call us, provide details of car and location, and a repair mechanic or tow truck will be on its way to you.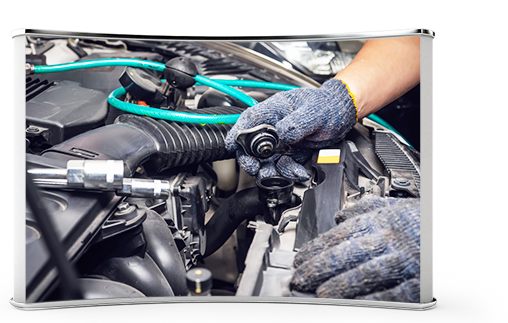 How the Car Engine
Cooling System

Work?

Your car engine and cooling system works in harmony with several key components. This includes radiator, water, lubricants, engine fans, water pump and many other essential parts. Together, they help the engine and maintain optimum performance by regulating the correct temperature.

For example, if the engine coolant leaks out, the problem can quickly escalate and even result in engine failure. This is can cause serious damage to central parts of your engine which can spiral into costly catastrophes.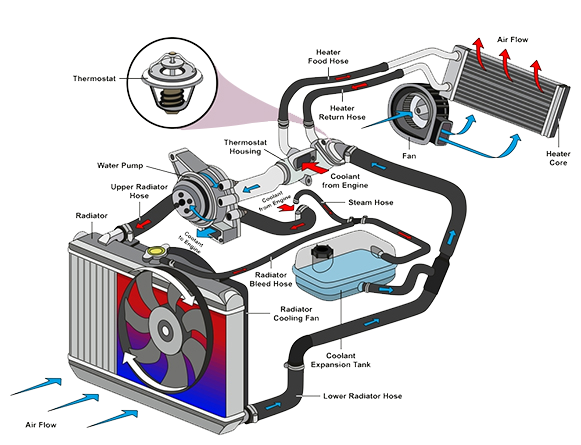 Offering Engine and Cooling System

Repairs & Replacement

in Dubai

Since Dubai already owns some of the harshest climates in the world, keeping your engine in routine check is very important. But if undesired circumstances arise, you must be prepared to tackle them in a timely and appropriate manner. Understanding this issue among car owners in Dubai, Pitstop Arabia offers the perfect solution to get your engine and cooling problems fixed in the most time effective and cost friendly method possible. All you need to do is call us, provide car details, and we will send the best option to get your car fixed right at the spot.

Thanks to our vast network of suppliers, you can get brand new engine and cooling car components without any delay so your immediate needs are answered right on the spot. We also maintain strict price control so any part you buy is always offered in its fair price. We can help you get your vehicle fixed professionally without the need of experimenting with new mechanics and shady service centers. Every service provider in our list is chosen on the highest technical standards and service history, so you never have to afford the risk of getting a cut cornered job on your engine and cooling system.
Getting
Professional


Guidance

If such situation arises, we never encourage car owners to buy parts by themselves. The reason behind that is most car owners have little knowledge about the specific car parts and there is a huge likelihood that they might purchase the wrong. Therefore, you must get in touch with a professional who understand the car models and fittings

With Pitstop Arabia you never have to worry about getting the wrong part or wrong garage for the installment. We only deal with professionals and top class service centers in Dubai. You only have to call once and we will take it from there.

Out vast network of suppliers are always stocked with brand new engine and cooling car components so your immediate needs are promptly answered in the cost effective manner possible.