1.

Enter Your
Detail

2.

Receive Your
Quotes

3.

Choose Your
Garage

4.

Leave your
Feedback
Find a specialist local garage in a few clicks
| | |
| --- | --- |
| | Tell us what needs fixing in your car and we will find you the best local garage and the most competitive prices |
| | Sit back and relax. You will be contacted by specialist garages near you with their best prices |
| | Once you have received the quotes from our specialist mechanics, choose the garage for the service you require. |
| | Once the job is finished, please leave a review for the garage you chose and provide PitStopArabia.com some feedback as well |


By:

Ayshah Muhammad

22 Sep, 2020

By:

Ahmed Rostom

22 Sep, 2020

By:

Nadeem Bakshi

22 Sep, 2020

By:

Hafiz Zafar

22 Sep, 2020

By:

Lynn Fraser

08 Jun, 2023
Reasons

for Considering PitstopArabia

We stand by our commitment and guarantee to provide unwavering quality of service, total transparency, and professional
care. Here is why we are UAE's top automotive service providers.
Emergency Repairs

Cars breaking down and batteries dying off during journey is not uncommon in UAE. If you require an emergency repair, we offer mobile mechanic services at your exact location.

Trained Professionals

Our network includes trained and certified GM mechanics that are well-versed in all components and techniques art of repairing GM vehicles. No one understands GM better than us.

Comprehensive Services

We offer services throughout UAE. Moreover, we have all types of GM repairs ranging from a minor fuse to complete collision repair, paint, and engine maintenance.

Countrywide Presence

We will connect you with repair shops and service centres nearest to your location. If you need a GM repair service in Ajman, Sharjah, or anywhere in UAE, get in touch with us.

Genuine Products

Being a large investment, we know all vehicles are dear to their owner. We value your trust and connect you with the best suppliers, mechanics, and licensed shops for your car.

Warranty

All our work is in compliance with the highest standards in UAE automotive authorities. We make sure that any work or product does not void the automaker's warranty in any way.
GM

Repair Services In UAE

Since GM engines, computer components and car parts require seasoned experts for service and repair, you simply cannot take your GM truck to any other garage in UAE. All the spare parts are sourced from an authentic OEM supplier and come with a certified guarantee. Similarly, the GM mechanics are company trained to operate on trucks and SUVs so optimal performance is maintained. To make ensure your GM truck remains in perfect condition, Pitstop Arabia can help you find an authentic and trusted mechanic to work on your GM SUV. We are partnered with a huge network of garages, repair shops, and service centres who are picked through a rigorous quality assurance process to maintain the highest technical standards. To get a mechanic for your GM vehicle, contact us and we will connect you with the best options in town.
Types

Of GM repair services

Pitstop Arabia offers all types of GM repair and maintenance services in UAE. We are UAE's leading automotive service provider and offer an extensive range General Motors repair services. We guarantee top of the line services, trusted experts, and highly competitive rates.
Battery Replacement & Repair

Having a faulty battery is quite common. If you have
found the problem with your car battery anywhere in
UAE, you must get it repaired or replaced right away.

Engine repair

Engine is the heart of your vehicle. It is imperative to get it
checked right away to prevent the repair costs from going up
and to avoid the potential harm to other parts of your vehicle.

Tire Repair & Replacement

Due to the harsh climate of the UAE, having tire
problems is not uncommon. Fortunately, our mobile tire
replacement service can have it replaced on the spot.

Shock Absorbers

Shocks absorbers play a central role in terms of
comfortability. Therefore, having them routinely checked
routinely important for your truck's longevity.

Gearbox

Gearbox problems are mostly uninvited and can ruin
a perfectly going day. Pitstop Arabia has certified gearbox
repair mechanics and genuine parts.

Brakes

Brakes are one of the key deterrents of an accident.
If you are facing any problems in your trucks braking
system, contact us and we have it fixed.
General Motors

Repair
In UAE

GM is one of the oldest American automobiles manufactures that owns a heritage of over a century. Formerly the GMC, the company produces off-road performance trucks and SUVs famously used in the UAE. Owning to its beast like performance, amazing traction, and spacious luxury interiors, GM trucks are personal favorites for Emiratis. But being a specialty automobile manufacturer, GM comes with dozens of modern features and advanced components that require special care. This is why GM owners need expert mechanics for repair and maintenance of their vehicles.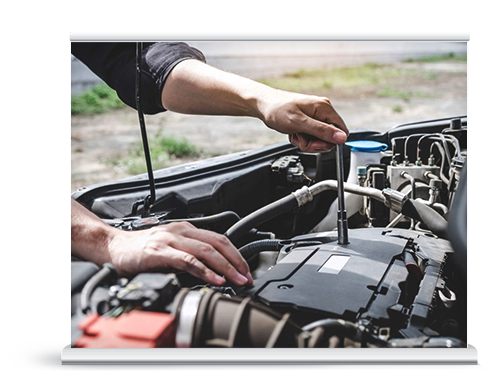 Common

Problems associated
with GM Vehicles

GM is a popular and historic automobile manufacturer. The trucks and SUV are designed and developed with cutting edge technology based on leading standards of automobile industry. And while such massive manufacturers keep strict quality checks throughout their manufacturing process, certain issues get overlooked and appear later during use. GM has taken several steps to ensure such issues never get missed and have improved heavily on their component grade, engine technology, and overall performance, yet a certain problem still persist in particular models. Here are some common issues GM owners often stumble upon.
Faulty Brake

In 2018, GM admitted to the news that its cars were involved
in over 110 crashes and several injuries. After some investigation
it was found that faulty vacuum pumps were messing with the
brake assist function. This hampered the car brake ability.

Power Steering Malfunction

Power steering malfunction is a common problem of GMC
cars. It often occurred during low-speed turns where the power
steering lost is function. The culprit of this issue was identified
as low voltage delivery when the GM vehicle slows down.

Exploding Air bag

This issue caused several recalls of GM trucks and SUVs. ARC
driver airbag inflators happened to deploy prematurely, leading to
erroneous airbag inflation that led to many accidents. If you have
a GMC that came in between 2010-11, have it checked now.

Safety Belt Fire

Safety belts are particularly designed for driver and passenger
safety. In GM trucks Fire are due to belts. The problem lay with
a rather heated front seatbelt that ended up sparking with the
friction. These sparks on the carpet cause some interior fires.