1.

Enter Your
Detail

2.

Receive Your
Quotes

3.

Choose Your
Garage

4.

Leave your
Feedback
Find a specialist local garage in a few clicks
| | |
| --- | --- |
| | Tell us what needs fixing in your car and we will find you the best local garage and the most competitive prices |
| | Sit back and relax. You will be contacted by specialist garages near you with their best prices |
| | Once you have received the quotes from our specialist mechanics, choose the garage for the service you require. |
| | Once the job is finished, please leave a review for the garage you chose and provide PitStopArabia.com some feedback as well |


By:

Ayshah Muhammad

22 Sep, 2020

By:

Ahmed Rostom

22 Sep, 2020

By:

Nadeem Bakshi

22 Sep, 2020

By:

Hafiz Zafar

22 Sep, 2020

By:

Lynn Fraser

08 Jun, 2023
Why choose PitstopArabia for

Infiniti

Services & Repairs

The reason to consider PitStopArabia, because we bring the best Infiniti vehicle repair and maintenance services across UAE. We provide a service based on professionalism and excellence. Our certified specialists work seamlessly to keep your vehicle on the road for the longest possible time.
Competitive Pricing

We provide the services you deserve
on a wide selection of cars at competitive
prices throughout the UAE.

Mobile Mechanic

PSA provide online car repair services.
Using any device, you can access us from
anywhere in just a few clicks.

Comprehensive Solutions

Certified Technicians use the latest
technology to examine the situation and offer
effective alternative repairing solutions.

Commitment to Quality

PitStopArabia strongly believes
in providing quality Repair services to
maintain your ride comfort.

Convenience

We have designed the service booking
system to provide the best car repair
service for your convenience.

Extensive network

Get your Infiniti car repaired anywhere
in the UAE at the best price from 100+
repair & maintenance workshops.
Infiniti

Car Repair services in UAE

Get repair and maintenance services for your Infiniti car from experienced and certified technicians in Dubai, UAE. PitStopArabia is one of the prime auto repair and service centers around the UAE. We have the latest state-of-the-art repair equipment and trained technicians who will cover all of your routine and major repairs with the best possible solutions. All you wanted your car to run well into the future. Don't have to worry anymore. Get in touch with us; repair your car on your doorstep or from our repair center.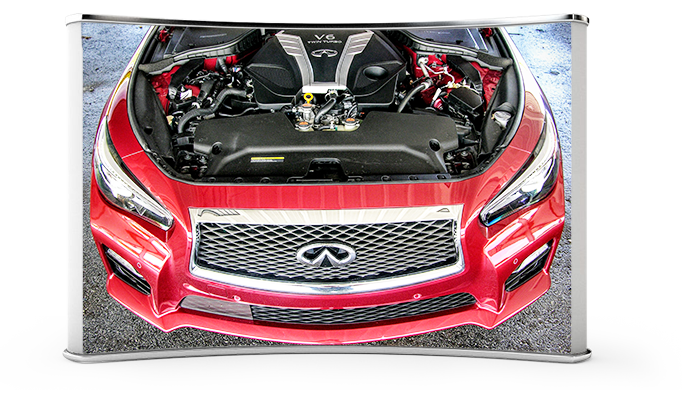 Why Choose Infiniti
Certified


Car Repair Service?

You will find technicians at any garage that claims to have received top-notch training in your make and model. But only a few are certified to work on your vehicle. Fortunately, PitStopArabia organized training programs to keep their technicians updated on the latest repair techniques. We have rich experience of over 6 years in the automotive service and repairing industry, and that comes from running successful workshops in Abu Dhabi, Sharjah, etc. You choose Infiniti certified car repair service because your vehicle is in good hands at our service center.
Superior Training

When you bring the vehicle to a local garage, you will receive aftermarket parts that may cause issues in the future. Our trained mechanics only use certified OEM components & repair parts.

Genuine Parts

Our car manufacturers use certified OEM parts that are suitable and specifically made for your vehicle. We guarantee that your car continues to run smoothly in the future.

Cost Saving

Cheap services might work for short time, but this might create a problem for you in the future. With PitStopArabia you can sit and relax while our experts fix your Infiniti..
Common

Repair Issues you may face

Infiniti vehicles give great comfort and performance services, and undoubtedly you deserve to find this car at a dealer that matches the standard. Some of the massive inventory of new Infiniti vehicles from the Q50 sedan to the commanding QX80 SUV gives a great driving experience. But to be well-designed, still, there are some slight issues in Infiniti that cause troubles for owners. If you face any of these issues in your Infiniti, contact PitStopArabia for its service. Our car technicians have been actively improving the vehicles repairing service to overcome these issues.
Brake Wear Prematurely

Braking plays a vital role to keep you safe from accidents in an emergency situation. Mostly, the car owners in the UAE are facing the abnormal brake wear issue in Infiniti due to their bad driving habits, or worn-out rotors.

Tires Wear Out

Due to some reasons, tires in Infiniti vehicle worn-out early. It might be because of the improper pressure and improper alignment. No need to stress, our technicians will examine the problem and provide the best service.

Oil Consumption

Regular Engine Oil change is necessary thing to keep your Infiniti moving. Today, the most common issue owners are facing is oil consumption. Main reasons include engine oil leaks, bad valves, or failed piston rings of the engine.

Air Filter Replacement

Infiniti cars have multiple air filters that help to keep vehicles in working order. Air filters catch the dust that comes through the air-conditioning system, ventilation, and heating that may go wrong for the long lasting life of your Infiniti.

Engine Cooling

Engine is the most essential part of any car. In UAE, the hot weather and stop-and-go traffic are two main causes of your over- heating car and it should be taken seriously. We professionally provide a complete engine replacement service.

Steering Wheel Performance

Mostly, accidents occur in Dubai because of a bad steering wheel alignment & due to a worn drive belt, damaged steering shaft, and power steering pump. PitStopArabia ensures the best steering wheel services from top technicians.