1.

Enter Your
Detail

2.

Receive Your
Quotes

3.

Choose Your
Garage

4.

Leave your
Feedback
Find a specialist local garage in a few clicks
| | |
| --- | --- |
| | Tell us what needs fixing in your car and we will find you the best local garage and the most competitive prices |
| | Sit back and relax. You will be contacted by specialist garages near you with their best prices |
| | Once you have received the quotes from our specialist mechanics, choose the garage for the service you require. |
| | Once the job is finished, please leave a review for the garage you chose and provide PitStopArabia.com some feedback as well |


By:

Ayshah Muhammad

22 Sep, 2020

By:

Ahmed Rostom

22 Sep, 2020

By:

Nadeem Bakshi

22 Sep, 2020

By:

Hafiz Zafar

22 Sep, 2020

By:

Lynn Fraser

08 Jun, 2023
Why Choose PitstopArabia For

Jeep

Services in the UAE?

PitstopArabia is a one-stop solution for all the Jeep repairs and services you need in the UAE. With countrywide collaboration with car enthusiasts, we bridge the gap of finding reliable resources for vehicle repairs. Our web portal takes you to navigate between skilled mechanics and trusted dealership with respect to the specific repairs you are looking for.
Emergency Repairs

If you require an emergency repair, we offer mobile mechanic services that can be available anywhere in the UAE.

Trained Professionals

Our workforce is well-trained in the art of repairing Jeep. No one understands Jeep better than our workers.

Comprehensive Services

Our services are not confined to any specific area. Instead, we provide all types of Jeep repair services all over UAE

Countrywide Presence

Our repair shops are located throughout the UAE. You can avail our Jeep repair service in Ajman, Sharjah, or anywhere else.

Genuine Products

Vehicles are a form of investment. We value your investment greatly and only install genuine & licensed products.

Warranty

All our work is done in line with acceptable standards. We make sure that our work does not void warranty in any way.
Jeep

Repair in UAE

Jeep is one of the oldest and iconic 4-wheel drive and off-road performance vehicle manufacturer. It is an absolute favorite in the sports and tourism sector and comes with a broad range of different models. Being an American division of Stellantis, it has produced some of the world's most iconic crossovers and fully off-road worthy SUVs models, including pickup trucks. Being a specialty off-road vehicle, it has a huge fan following in the sandy dunes of the UAE. While its American engineering and top-class safety features has set a precedent in the automobile industry, like every other car it too requires routine maintenance and repair to ensure optimal performance.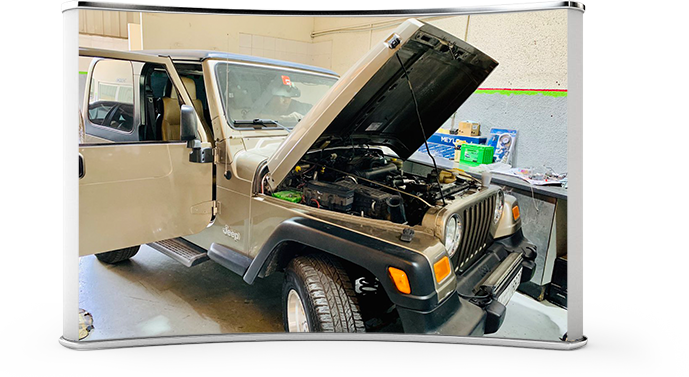 Jeep Repair
Services

in UAE

Jeeps cannot be serviced or repaired by ordinary garages and service centres. These vehicles require specialized care by certified mechanics and specific tools and equipment. Even the spare parts have to be outsourced from an authentic OEM supplier. To ensure you Jeep remains in perfect condition, the maintenance and repair professionals are Jeep certified which helps them examine, diagnose, and fix the problem from every nook and cranny. Apart from that, these professionals undergo periodic training to update their skills on par with the latest technological interventions in the repair and maintenance sector.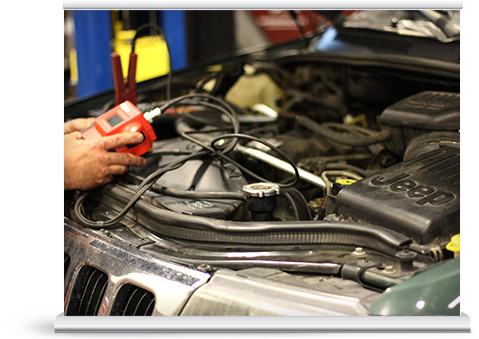 Types

Of jeep repair services

Pitstop Arabia offers a broad range of Jeep repair and maintenance services in UAE. Being a leading automotive service provider in UAE, we understand the type of problems Jeep owners come across. That is why we are partnered with a massive network of Jeep certified mechanics and service centres so you get connected with genuine service provider.
Battery Replacement & Repair

Having a faulty battery is quite common. If you have
found the problem, you must get it repaired or replaced right
away by consulting with battery experts.

Engine repair

Engine is the heart of your vehicle. It is imperative to
get it checked right away to prevent the high repair and
servicing costs from going up with the time.

Tire repair & replacement

Due to the harsh climate of the UAE, having tire problems
is not uncommon. Fortunately, our mobile tire replacement
service can have it replaced on the spot.

Shock Absorbers

Shocks absorbers play a central role in terms of
comfortability. Therefore, having them routinely checked
routinely important for your Jeep longevity.

Gearbox

Gearbox problems are mostly uninvited and can ruin a
perfectly going day. Pitstop Arabia has certified gearbox
repair mechanics and genuine parts.

Brakes

Brakes are one of the key deterrents of an accident. If
you are facing any problems in your Jeep's braking system,
contact us and we have it fixed.
Jeep Genuine
Accessories


In UAE

Once we have rendered repair work and maintenance through a certified mechanic, we remain in contact to ensure your JEEP is working to its 100% performance. Whether it is a simple service or maintenance job, or a detailed replacement and repair task, we ensure all labour and parts are sourced based on the highest technical standards. Moreover, all accessories from our service providers carry official brand warranty. You can contact us if you need any helps regarding you JEEP.
Common

Problems Associated with jeeps

While most automobile manufacturers ensure strict quality checks, certain issues still get overlooked and are handed to the end user. A Jeep is no exception. Over the years, Jeep has made several leaps in improving its vehicular performance from driving performance, to safety and comfort. However, if you face any of the following issues, contact Pitstop Arabia rightaway.
Death Wobble

Death Wobble problem is undoubtedly the most infamous
problem in Jeeps. This happens as a result of a violent surge of
vibration transferred through the front axle. When one-wheel
wobbles, the motion gets transferred to the steering wheel.

Exhaust Leaks

Certain Jeep models have been experiencing exhaust leaks for
quite some time. Some models of the Cherokee, Grand Cherokee,
and Jeep Wrangler often develop exhaust leak issues. If you face
any issue like this, have it checked by a professional asap.

Clogged Fuel Injectors

Clogged fuel injectors can be quite annoying. If not serviced
on time, these injectors can spiral into costly catastrophes. This
issue in the Jeep usually happens when deposit builds up inside
the injectors and consequently disrupts the flow of fuel.

Failing Throttle Postition sensor

Another common problem faced by many Jeep owners
is failing throttle position sensor. This is also notoriously
found in Cherokee and Wrangler models. It occurs as a result
of residue clogging which prevents the sensor from working.