1.

Enter Your
Detail

2.

Receive Your
Quotes

3.

Choose Your
Garage

4.

Leave your
Feedback
Find a specialist local garage in a few clicks
| | |
| --- | --- |
| | Tell us what needs fixing in your car and we will find you the best local garage and the most competitive prices |
| | Sit back and relax. You will be contacted by specialist garages near you with their best prices |
| | Once you have received the quotes from our specialist mechanics, choose the garage for the service you require. |
| | Once the job is finished, please leave a review for the garage you chose and provide PitStopArabia.com some feedback as well |


By:

Ayshah Muhammad

22 Sep, 2020

By:

Ahmed Rostom

22 Sep, 2020

By:

Nadeem Bakshi

22 Sep, 2020

By:

Hafiz Zafar

22 Sep, 2020

By:

Lynn Fraser

08 Jun, 2023
Why PitStopArabia For

Land Rover

repair and Servicing

We remain as one of the most trusted car repair service providers because of our huge network of certified garages and countless satisfied clients all across UAE. We understand Land Rover is a sophisticated vehicle and requires professional care from a certified expert. We also ensure all services offered are competitively priced so you get the best value for money.
Competitive Pricing

Beings a trusted service provider,
we never charge unjustly and always
ensure complete transparency

Mobile Mechanic

If you face and unfortunate and untimely
car issue while driving, you can call a mobile
repair mechanic right at the spot.

No wait Time

Simply book a car mechanic and professional
will be on its way to you. No wait time and
no unnecessary questioning.

Commitment to Quality

Our Land Rover repair & maintenance
services is done by licensed experts that
maintain the highest technical standards

Convenience

You can order a repair mechanic at your
exact location anytime. This will save
your precious time and expense.

Extensive Network

We have the biggest network of garages &
repair centres in UAE so you can get Land
Rover professional nearest to you.
Land Rover

Car Repair Services in the UAE

UAE makes one of the biggest markets and consumer base for world's best automotive manufactures. Its massive economy supports a huge ecosystem for domestic, luxury, sports, and commercial vehicles. With its extensive network of highways, cars are the most common source of commute and transport. Having said that, its sandy terrain and hot climate has created a huge demand for Sports Utility Vehicles (SUVs).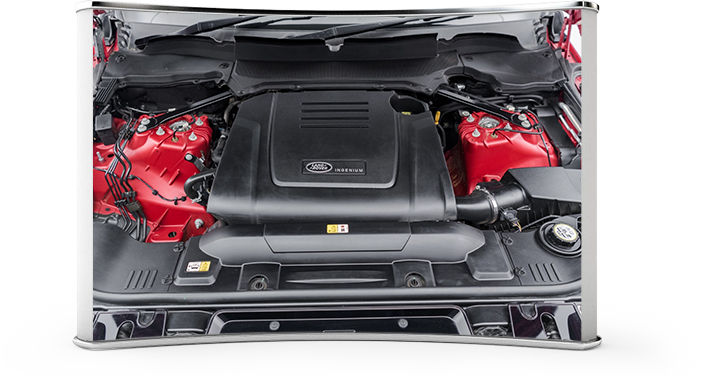 These cars are powerful beasts and often come with 4Wheel drive to support driving on incline and deluged terrains. One of the most popular and successful brands is Land Rover, a British automotive manufacturer that produces one of the highest performing and luxury line of SUVs in the world. If you own a Land Rover and come across repair and maintenance issue, you will need a certified Land Rover repair and maintenance professional. As UAE's leading automotive services provider, Pitstop Arabia can help you connect with the best garages, repair shops, service centres, and mechanics near you in the most competitive rates.
Why Choose Land Rover
Certified


Car Repair Service

While there are countless repair shops, service centres, garages, and mechanics who claim to be experts in Land Rover repair, there are quite a few who certified or have every repaired a Land Rover vehicle. Fortunately, Pitstop Arabia is partnered with the biggest network of Land Rover trained and certified mechanics who are available 24/7 for guidance and repair. Just give us a call and we will select the best vendor based on your requirements and preferences. Here is why you need a Land Rover certified repair centre.
Superior Training

Mechanics and garages associated with PitStopArabia have trained mechanics and only use OEM components. To ensure they can handle Land Rover issues, they undergo training in repair, replacement, and maintenance for Land Rovers.

Genuine Parts

All components used in replacement and repair are company certified OEM parts. Genuine parts last 45% longer than ordinary parts, this helps ensure optimum performance of your Land Rover and saves future expenses and ensure safe drive.

Cost Savings

With PitStopArabia you can save immensely not just on your car repair and maintenance costs, but also on expenses that might come overtime. We offer genuine parts, and top of the line equipment for your Land Rover.
Most
Common

Land Rover Problems

Land Rover is a great machine with state-of-the-art technology and top tier luxury features. But that does not mean it is impervious to mechanical or electronic problems. These SUVs are the embodiment of advanced British engineering, but the material components certainly have a life and cannot take extra stress. There are some common issues that Land Rover owners and users have reported. While these issues have put a question mark on the manufacturers, Land Rover has been actively improving its vehicles to not just overcome the problems, but offer better comfort, performance, and luxury.
Air Suspension Problems

Air suspension is a common problem in Land Rovers. It has been
frequently reported that air suspension begins to sag after a 4-6
years of use. If you are encountering the same problem, contact
a certified repair centre to get your air suspension replaced.

Oil Leaks

Land Rovers are known for leaking oil. This usually happens
before the vehicle reaches 60,000 mile threshold. The most common
areas of oil leak include oil cooler lines and valve cover gaskets.
A timely action can save your car from undesired expense.

Electrical Issues

Being a luxury vehicle with tons of electronic wires, there
have been continuous reports of electronic malfunction from the
car computer. If any sign appear, get it checked through a certified
Land Rover mechanic. Get in touch with PitstopArabia for quick fixes.

Parking Brake Failure

Many users have reported their experiences when parking Land
Rovers. The most common issue they faced is parking brake failure
and screeching sounds. This happens as a result of component fatigue
as the parking brake gets out of alignment and requires readjustment.

Airbags Malfunction

Land Rover owners have come across airbag malfunctioning
issues. It happens due to misalignment of air bag springs and steering
columns, causing the wiring to break. As a result, the airbag may deploy
erroneously. To ensure safety, get it checked by professionals.

Sunroof Leaking Water

Sunroof leakage is considered a common issue in Land Rovers.
It usually happens due to pinched sunroof drains that hold water
causing it seep down. It may happen after 55,000 miles of use.
You must visit a certified technician to avoid it.