1.

Enter Your
Detail

2.

Receive Your
Quotes

3.

Choose Your
Garage

4.

Leave your
Feedback
Find a specialist local garage in a few clicks
| | |
| --- | --- |
| | Tell us what needs fixing in your car and we will find you the best local garage and the most competitive prices |
| | Sit back and relax. You will be contacted by specialist garages near you with their best prices |
| | Once you have received the quotes from our specialist mechanics, choose the garage for the service you require. |
| | Once the job is finished, please leave a review for the garage you chose and provide PitStopArabia.com some feedback as well |


By:

Ayshah Muhammad

22 Sep, 2020

By:

Ahmed Rostom

22 Sep, 2020

By:

Nadeem Bakshi

22 Sep, 2020

By:

Hafiz Zafar

22 Sep, 2020

By:

Lynn Fraser

08 Jun, 2023
Why PitstopArabia for

Lexus

Repair and Services

Various reasons make PitstopArabia the top choice for many seeking Lexus car repair services in Sharjah and other cities. The first and foremost reason to consider us is due to our commitment to customers. Whenever a customer engages us, we utilise all available resources to meet their expectations. Apart from this, we have managed to compile a list of why you should opt for PitstopArabia when opting for Lexus car repair and maintenance services in Abu Dhabi and the rest of the UAE:
Pricing

We do not earn profit at the expense of
customers, we are against overcharging.

Mobile Mechanic

Avail our mobile mechanic service to
get the repair work done at home.

Comprehensive Solutions

We offer all types of repair and
maintenance work under one portal.

Commitment to Quality

All our repair & maintenance work is
done according to industry standards.

Convenience

You can avail our services at any
time through our online portal.

Extensive Network

We have an extensive network of
repair workshops throughout the UAE.
Lexus

Car Repair Services in the UAE

We all know that Lexus is the luxury car division of the Japanese automobile giant 'Toyota'. These premium-priced vehicles excel in offering performance and comfortability to their owners. Naturally, if the Lexus requires a repair or maintenance, you will opt for an equally good car repair shop. Right? 10 times out of 10, the answer to this question is a simple 'yes'. The reason is that you will not trust just about any workshop with your thousands of AED worth vehicle. Well, suppose you are one of those people who are on the lookout for reliable Lexus Arepair services in Dubai. In that case, PitstopArabia is where your search ends. PitstopArabia offers reliable and top-quality Lexus car repair services throughout the UAE. You might be wondering why you should trust us with your expensive Lexus?.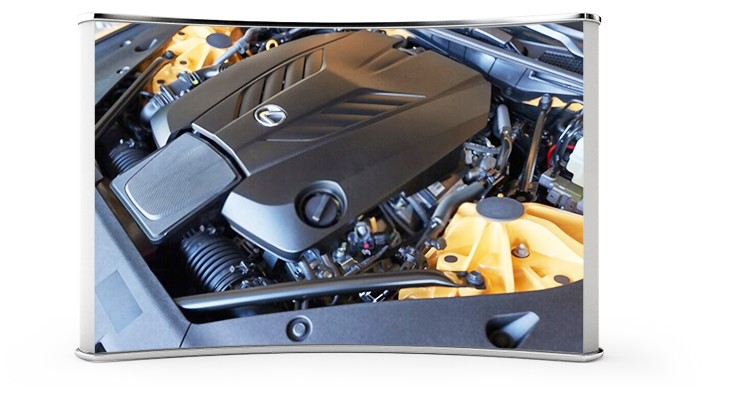 Most
Common

Lexus Problems

Owning a high-end vehicle does not mean that you will not run into problems. On the contrary, the price of the car has nothing to do with the probability of running into issues. A high-end vehicle might develop more faults than a low priced one. To facilitate our customers, we have managed to compile a list of common problems reported by Lexus owners throughout the world. However, it must be noted that these problems do not put a question mark on the vehicle's quality. Instead, like all machines, automobiles can also develop faults which only become evident once the car has been rolled out to customers.
Dashboard Cracking

Specific models of the Lexus lineup have quality problems in their dashboard which results in cracks. As it is a major and unique issue, so it is quite expensive to repair and maintain.

Faulty Shock Absorbers

If you hear a noise coming from the shock, the most likely reason is a faulty shock absorber. You need to replace for better drive. Luckily, they are not as expensive to repair or replace.

Coolant Leak

You might notice a stain near the front of the engine where the vehicle coolant pipes are located. If yes, then the stain is due to the leaking coolant system of the engine.
PitstopArabia's
Lexus Car


Repair and Maintenance Services

While we have discussed why you should select PitstopArabia, there is a need to elaborate on the different repair and maintenance services. For this, we request you to look at your vehicle in detail. Now, think about the various components like the engine, tires, transmission, external body, paintwork, battery, and others. Once done, you will be surprised to find that PitstopArabia offers repair and maintenance services for just about everything that you can think about with regards to your Lexus. We indeed are a one-stop-shop for Lexus car repair services in UAE. Here's a list of the different services:
Lexus Tires

You can find all sorts of tires from reputable brands
such as Michelin, Yokohama, and Pirelli for your Lexus.
We also offer original equipment manufacturer tyres.

Lexus Battery

Use our battery repair and maintenance services.
We offer new automobile batteries in the UAE
along with services to repair your existing one.

Lexus Engine

Suppose the engine is stalling or developed any other
faulty. In that case, our technicians will use the latest
tools to diagnose the and resolve the issue.

Lexus Detailing

If you want to give your Lexus an improved look
or regain its lost appearance, then PitstopArabia's
detailing service is exactly what you need.

Lexus Bodywork

We utilise different methods to repair dents and other damage
to the body. PitstopArabia also offers genuine replacement
parts to ensure that the vehicle stays in original condition.

Lexus Periodic Maintenance

You can choose from our professional periodic
maintenance services to ensure that the Lexus
stays in the best condition throughout the journey.