1.

Enter Your
Detail

2.

Receive Your
Quotes

3.

Choose Your
Garage

4.

Leave your
Feedback
Find a specialist local garage in a few clicks
| | |
| --- | --- |
| | Tell us what needs fixing in your car and we will find you the best local garage and the most competitive prices |
| | Sit back and relax. You will be contacted by specialist garages near you with their best prices |
| | Once you have received the quotes from our specialist mechanics, choose the garage for the service you require. |
| | Once the job is finished, please leave a review for the garage you chose and provide PitStopArabia.com some feedback as well |


By:

Ayshah Muhammad

22 Sep, 2020

By:

Ahmed Rostom

22 Sep, 2020

By:

Nadeem Bakshi

22 Sep, 2020

By:

Hafiz Zafar

22 Sep, 2020

By:

Lynn Fraser

08 Jun, 2023
Choose PitstopArabia for
Maserati

Repair Services

PitStopArabia maintains a reputation of being one of the leading Maserati repair and maintenance service providers in the UAE. Our technician's primary objective is to provide the customers with the best quality services. We offer efficient repair services that you can't get anywhere else.
Competitive Pricing

PitStopArabia is providing exceptional Maserati repair services to keep your car running perfectly, at a competitive price.

Mobile Mechanic

Save your time and effort, and experience a stress-free journey by booking our online car repair services.

Comprehensive Solutions

The certified technicians deliver the best auto repair services to your Maserati based on its excellence.

Commitment to Quality

Our company is equipped with the latest technologies to provide professional and efficient services to the clients.

Convenience

Is your car breakdown in the middle of the road? Call us and get a professional, and trusted service.

Extensive network

Get the best repair service at our Maserati service center in 100+ locations, across the UAE.
Maserati

Car Repair Services In UAE

PitStopArabia is one of the best car repair workshops offering a wide range of Maserati repair and maintenance services. The company has rich experience of over many years in the automotive industry and that can be seen from running numerous successful workshops in UAE. Our goal is to keep your vehicle running on the road with the least number of visits to the service center.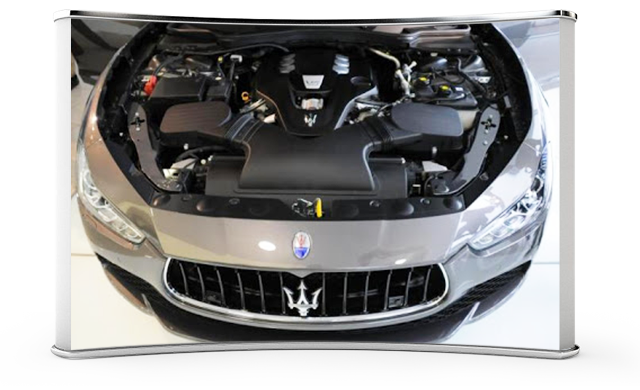 Why Choose Maserati

Certified

Car Repair Service?

Are you finding a trustworthy and professional repair garage for your Maserati? At PitStopArabia we ensure to provide you with the best possible repair services at a reasonable price. When it comes to quality, we strive to deliver valuable services to our customers. Whether your car has a major or minor problem, PSA has the experienced mechanics to get your vehicle back on the road.
Superior Training

Our company staff is constantly taking the training and maintaining the level of technologies to meet industry standards.

Genuine Parts

All the equipment is the start-of-the-art that is used by our trained technicians to perfectly repair your car.

Cost Saving

As the best auto workshop, we deliver the finest repair services of all Maserati models cost-effectively.
Common

Repair Issues You May Face

Maserati vehicles are known for their great-looking design. But undoubtedly, even luxury cars need proper maintenance to keep them running smoothly on the road. At PitStopArabia, our experienced experts have decades of knowledge to repair all Maserati makes and models. We can handle all your automotive problems, from major repair services to minor maintenance services.
Frequent Brakes Maintenance

The accurate performance of the brakes is important for your vehicle. But, if the fluid doesn't replace regularly, then there is a high chance of brakes failure. Call us and get quick service from PSA.

Clutch Pedal Replacement

Recently, some car owners have been facing frequent clutch replacement issues after covering just 12,000 miles. If you are looking for an expert technician, then getting a service from PitStopArabia is worth value.

Fuel System Issues

The fuel system controls the vehicle's ability to move. If it fails, the drive becomes impossible for us. It might occur due to the leakage in the engine that might cause a car fire later on.

Power Train Problem

Lately, the time distance between pushing the accelerator and gathering speed is comparatively low and smoother than it was. Bring your car to our garage and our Maserati specialists will identify and repair the problem.

Check Engine Light

Have you noticed any failing catalytic converter? Or Is your car have fouled spark plugs? Or faulty oxygen sensor. If you notice any of these issues, then before services drive your car as little as possible..

Repair Auto Battery

Most of us, always forget to do battery maintenance at regular intervals. But it is vital as it helps for the smooth functioning of your car. Our specialists will check your battery and will repair it professionally.