1.

Enter Your
Detail

2.

Receive Your
Quotes

3.

Choose Your
Garage

4.

Leave your
Feedback
Find a specialist local garage in a few clicks
| | |
| --- | --- |
| | Tell us what needs fixing in your car and we will find you the best local garage and the most competitive prices |
| | Sit back and relax. You will be contacted by specialist garages near you with their best prices |
| | Once you have received the quotes from our specialist mechanics, choose the garage for the service you require. |
| | Once the job is finished, please leave a review for the garage you chose and provide PitStopArabia.com some feedback as well |


By:

Ayshah Muhammad

22 Sep, 2020

By:

Ahmed Rostom

22 Sep, 2020

By:

Nadeem Bakshi

22 Sep, 2020

By:

Hafiz Zafar

22 Sep, 2020

By:

Lynn Fraser

08 Jun, 2023
Choose PitstopArabia for
Mclaren

Repair Services

PitStopArabia is a McLaren repair and maintenance company providing full automotive solutions across the UAE. Over the six years, we are providing reliable repair services of all McLaren models to our customers. Our company delivers the best and most efficient repair services in Dubai.
Competitive Pricing

The certified mechanics provide a variety of services to different car model owners at a market-competent price.

Mobile Mechanic

We understand that you have a busy life, so we provide an online service for your comfort.

Comprehensive Solutions

Our highly trained technicians have the expertise to ensure that the correct service is performed on your vehicle.

Commitment to Quality

Each day we remind our vision before heading to work and never compromise on the quality of repair services.

Convenience

For your convenience, we provide the online McLaren repair service. Grab the opportunity and get professional service from PSA.

Extensive network

PitStopArabia is the most reliable auto workshop in the UAE that delivers accurate services according to car needs.
Mclaren

Car Repair services in UAE

PSA is proud to be a leading McLaren Service center in Dubai, dealing with all kinds of vehicle repair problems for many years. Our Auto workshop has a team of certified technicians that are ready to accept any challenge and exceed customer's expectations with the quality of their work. So, for any vehicle issue, feel free to call or visit McLaren repair and Service Center.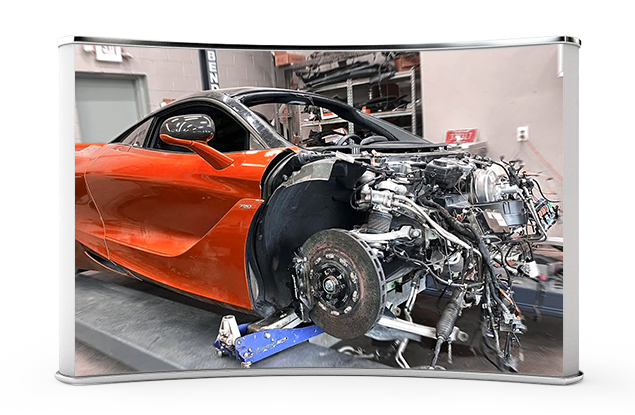 Why Choose Mclaren

Certified

Car Repair Service?

Are you searching for a professional car garage or genuine components? Your search comes to an end. At PitStopArabia we understand all your worries and we have a strong belief to provide the best possible solutions to our customers. The experienced mechanics are constantly working hard to ensure that your car is repaired at its highest standards.
Superior Training

Our team of professional and highly-trained mechanics takes a training program to keep them updated on technology advancements in the automotive industry.

Genuine Parts

Usage of genuine car parts and the latest diagnostic equipment is our winning part to become one of the best leading automotive companies.

Cost Saving

For over six years, we are working hard to deliver valuable and specialized automotive services throughout the UAE to you and save your time and money.
Common

Repair Issues you may face

If you are looking for the best McLaren Repair and Service center in UAE, then you have come to the right place. Our McLaren specialists work seamlessly and smoothly to offer you the best auto repair techniques. The company goal is to provide professional service that keeps your vehicle on the road for the longest possible time.
Leaking Radiator

Radiator leaks are almost always caused by corrosion and there is no doubt that one leak might get more leakages. So, it would be great to get your car repaired by the PitStopArabia team.

Excessive Emissions

The emission system is designed to prevent pollution and keep your car in running condition. If it fails, no need to stress, our technicians will examine the problem and provide the best service.

Faulty Wiper Motor

The high temperature and humidity in UAE would cause the wiper motor to jam and prevent it from working correctly. For your safety, get it replaced from your nearest PSA garage.

Sensors Malfunctioning

The most common fault in McLaren cars is with the fuel-air sensors and they are costly to replace. PitStopArabia provides the best air engine replacement ensuring the efficient performance of the engine.

Vehicle Suspension System

Are you hearing a noise while turning? Or Is your car rides roughly? These all are the signs of a bad suspension system affecting the driver's driving ability. Get it checked before getting into serious trouble..

Airbrake Problem

The airbrake of the car is controlled by the PCCU. If any issue occurred with the airbrake then it wouldn't deploy. Take an immediate step to get your McLaren checked by any professional garage.