1.

Enter Your
Detail

2.

Receive Your
Quotes

3.

Choose Your
Garage

4.

Leave your
Feedback
Find a specialist local garage in a few clicks
| | |
| --- | --- |
| | Tell us what needs fixing in your car and we will find you the best local garage and the most competitive prices |
| | Sit back and relax. You will be contacted by specialist garages near you with their best prices |
| | Once you have received the quotes from our specialist mechanics, choose the garage for the service you require. |
| | Once the job is finished, please leave a review for the garage you chose and provide PitStopArabia.com some feedback as well |


By:

Ayshah Muhammad

22 Sep, 2020

By:

Ahmed Rostom

22 Sep, 2020

By:

Nadeem Bakshi

22 Sep, 2020

By:

Hafiz Zafar

22 Sep, 2020

By:

Lynn Fraser

08 Jun, 2023
Reasons

For Considering PistopArabia

PitstopArabia has helped countless Mini owners get affordable repairs from certified mechanics in UAE. It is our unwavering
commitment to provide highest standard of service quality, transparency and professional care.
Emergency Repairs

If you own a car in UAE, flat tyres and batteries dying off is something you must always be prepared about. We offer emergency repair services to cater your immediate need anytime on the road.

Trained Professionals

All our service and repair professionals are trained and certified by Mini. This means they are well-versed in all components, servicing and repair techniques known only to manufacturers.

Comprehensive Services

As trained professionals you can get specialized service or repair jobs for any issue in your Mini. This is a minor fuse to complete collison repair, denting, paint and complete engine maintenance.

Countrywide Presence

Being one of the largest automative service provider in UAE, our network spans all across the country. This helps us connect you with the nearest Mini repair centre Ajman, Sharjah or anywhere else.

Genuine Products

We know how important your Mini is to you. That is why we only connect with top rated and, trusted mechanics and repair centres that use genuine OEM parts, prolonging your car's life.

Warranty

All our services are in complete compliance with the latest standards of all UAE automotive authorities. When we do work, our team makes sure that your vehicle Warranty does not go void.
Mini

Repair services in UAE

Mini is famous for its high knocking engines that deliver high power output within small ranges. The design itself is a great compliment to its name and makes a very distinctive category in the automotive industry. Since these cars are produced from top grade materials, advance designs, and state of the art engineering, they are highly sophisticated machines in the hands of an owner. Moreover, with the use of computer chips and AI operating systems, Minis require special care by certified mechanics and repair experts who are experienced and well versed in it. This is why Pitstop Arabia was created. We understand the unique needs of car owners and offer service, maintenance, and repair services for a broad range of car manufacturers in UAE.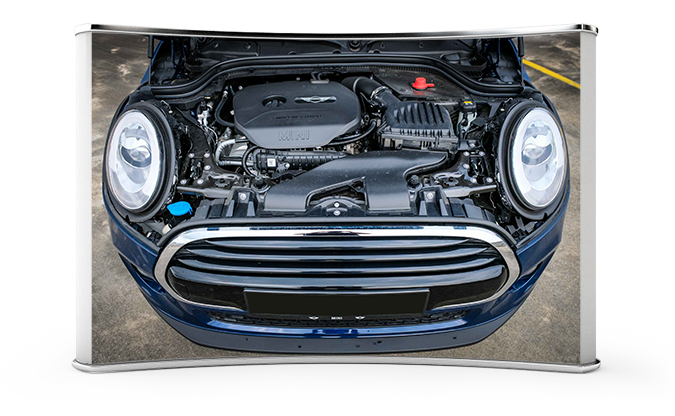 Types

Of Mini repair services

Being UAE's leading automotive service provider, we offer an extensive range of Mini repair services. We Guarantee top of the line
service centers, repairs shops, trusted experts, all within the most competitive rates you can get.
Battery Replacement & Repair

Having a faulty battery is quite common. if you have
found the problem with your car battery anywhere in
UAE, you must get it repaired or replaced right away

Engine repair

Engine is the heart of your vehicle. It is imperative to get it
checked right away to prevent the repair costs from going up
and to avoid the potential harm to other parts of your vehicle.

Tire repair & replacement

Due to the harsh climate of the UAE, having tire
problems is not uncommon.Fortunately, our mobile tire
replacement serivce can have it replaced on the spot.

Shock Absorbers

Shock absorbers play a central role in terms of
comfortability. Therefore, having them routinely checked
is important for your cars longevity.

Gearbox

Gearbox problems are mostly uninvited and can ruin
a perfectly going day. Pitstop Arabia has certified gearbox
repair mechanics and genuine parts.

Brakes

Brakes are one of the key deterrents of an accident.
If you are facing any problems in your cars braking
system, contact us and we have it fixed.
Mini

Repair In UAE

Mini, often stylized as MINI, was a British automotive manufacturer that was aquired by BMW. It is unlikely popular for its small profile design and relatively high performing engines and latest features. The word Mini was commonly used in models since 1959 and became a marque in1969 when it replaced certain car models such as "Morris Mini" and "Austin Mini". It was originally acquired by BMW in 1994 and relaunched in 2001 when it aquired other manufacturers such as Rover Group. The car is also quite popular among Emiratis and has a great fan following in Dubai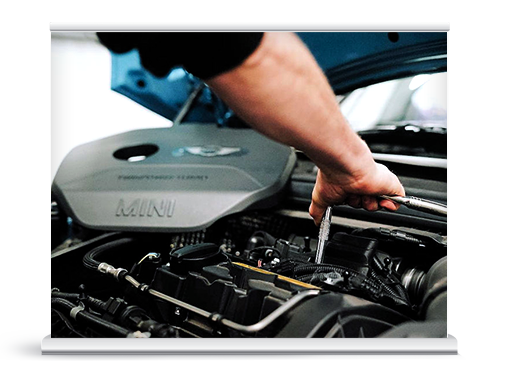 Common

Problems Associated
with Mini Vehicles

Ever since BMW relaunched Mini, the new design and engineering improvement has been met with great love. With its debut, Mini has been actively improving the performance of its vehicles and offering cutting edge features in its Cooper series. That being said, the first generation Minis are often subject to common issues that often arrive with age or manufacturing faults. These models range between 2000 to 2006, and are known to show signs after driving certain miles. if you face any issues below, contact a certified Mini mechanic or technician.
Clutch Failure

It has commonly reported by owners that Mini Coopers clutches
begin to fail at relatively low mileage. This often happens when the
Cooper is frequently driven in heavy traffic. if you smell something
burning whie driving, consult a mechanic in first attempt.

Automatic Transmission Failure

CVT automatic transmission failure is a common issue in MINI.
The reason it fails has a lot to do with the manufacturer's claim that
transmission does not require routine repair & maintenance. Take
your vehicle for maintenance if you find something in transmission.

Power Steering Pump Fails

When this technology was newly integrated, its performance lingered
between tested and approved. Electric power steering pump is known
to fail in early Mini models. You can also test the cooling system fan
and other parts since the front will be disassembled for repairs

Water Pump Leak

Water pump and thermostat housing in Mini's have been
known to face leaks. Minis are more susceptible to this problem
after having over 50,000 miles on them. As a preventive measure,
it is recommended to have these parts replaced from experts