1.

Enter Your
Detail

2.

Receive Your
Quotes

3.

Choose Your
Garage

4.

Leave your
Feedback
Find a specialist local garage in a few clicks
| | |
| --- | --- |
| | Tell us what needs fixing in your car and we will find you the best local garage and the most competitive prices |
| | Sit back and relax. You will be contacted by specialist garages near you with their best prices |
| | Once you have received the quotes from our specialist mechanics, choose the garage for the service you require. |
| | Once the job is finished, please leave a review for the garage you chose and provide PitStopArabia.com some feedback as well |


By:

Ayshah Muhammad

22 Sep, 2020

By:

Ahmed Rostom

22 Sep, 2020

By:

Nadeem Bakshi

22 Sep, 2020

By:

Hafiz Zafar

22 Sep, 2020

By:

Lynn Fraser

08 Jun, 2023
Why PitstopArabia is a top choice for

Mitsubishi

Car Repair Services
Pricing

When it comes to pricing, we offer the most competitive & affordable rates in UAE.

Expertise

Whether it's the classic Lancer or new Mitsubishi, we have the expertise to repair them all.

Convenience

Our extensive network allows us to offer repair services at any time at your preferred place.

Served Areas

We are located throughout the UAE, making us the top choice for Mitsubishi repair services.

Genuine Parts

We offer genuine spare parts for your Mitsubishi, which includes OEM components.

Exclusive offers

PitstopArabia offers exciting new deals for Mitsubishi car repair services for all customers.
Reliable
Mitsubishi

Car repair
services in UAE

If you are on the lookout for reliable Mitsubishi car repair services in the UAE, PitstopArabia is the answer. Why? Because being among the leading automotive service providers in the UAE, PitstopArabia has a trusted network of Mitsubishi certified mechanics to fix any issue. Our services are in line with industrial standards and keep in mind the guidelines laid down by the manufacturer. It means that no matter how extensive the damage is during the collision or any other accident; we will make your Mitsubishi up and running in no time at all. What's more, is that we only use reliable spare parts that are sourced from reputable sources. Where the vehicle is damaged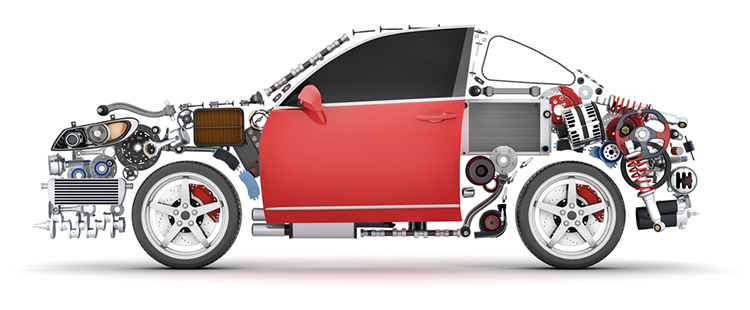 pitstopArabia &

Mitsubishi

- Partners

Most of you are unaware of the fact that Mitsubishi and PitstopArabia are partners. That's right! Although it is no secret, yet very few people know that the Mitsubishi Corporation is a strategic investor in PitstopArabia. This partnership comes with numerous perks and privileges. One standout point is that it gives PitstopArabia access to the automobile giant's resources and expertise. This helps give PitstopArabia an edge over its competitors. Over the years, this partnership will naturally grow and extend into other avenues. Therefore, as far as Mitsubishi car repair services in Dubai are concerned, PitstopArabia is the top choice.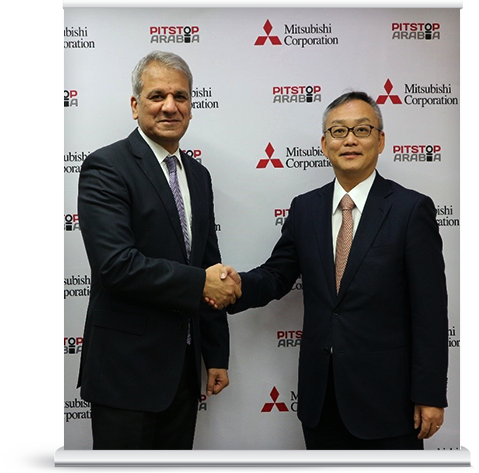 Comprehensive Services
for
Mitsubishi
Have a long close at your Mitsubishi and think about all the different things that you need to upgrade, repair, or even maintain. Now, you will be glad to know that all your needs can be fulfilled here at PitstopArabia. Whether it is an engine repair or a battery replacement, we have got the right resources to meet your needs. Apart from this, if you fancy improving your vehicle's looks with tints or ceramic coat protection, PistopArabia is also offering these services. Book now!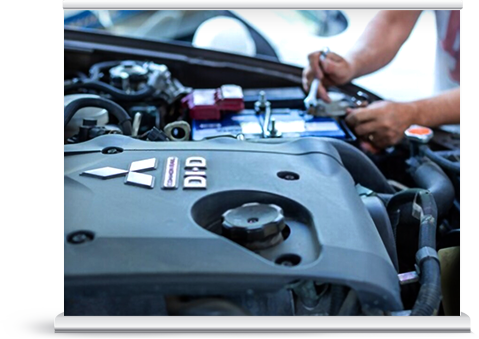 Mitsubishi

Services

When you think of Mitsubishi repair services in Sharjah, the sky is the limit. Whether you are looking to replace the battery on your old Mitsubishi Lancer or looking for a genuine spare part, we have you covered from all aspects. Here's a list of some of our top Mitsubishi repair services:
Mitsubishi Battery

Like all other parts of a vehicle, car batteries also have an
end life. If you are in need of a battery replacement or
want our repair services, contact us today.

Mitsubishi Tires

You can buy original equipment manufacturer tires for your
Mitsubishi at the most reasonable prices throughout the UAE
from us. We have a catalogue of top tyre brands.

Mitsubishi Engine

Whatever is the problem, our experts will diagnose it and
offer the most reliable solutions. Get all type of engine
work done satisfactorily with PitstopArabia.

Mitsubishi Transmission

The transmission can develop problems for numerous reasons.
Contact PitstopArabia for the most reliable Mitsubishi
transmission repair and maintenance services in Sharjah.

Mitsubishi Bodywork

Whether it's the bonnet, doors, or any other part that is
damaged, PitstopArabia's team of skilled workers
will fix the damage using the latest tools.

Mitsubishi Paint Protection

The scorching Abu Dhabi heat can damage any Mitsubishi's
paint. In that case, avail our ceramic paint protection
services to protect your paint from damage.

Mitsubishi Recovery

Whether you are off-roading or driving in the city, the car
can break down at any time. In such situations, avail our
car recovery service that also includes a mobile mechanic.

Major & Minor Services

Get Major & Minor Services for your Mitsubishi at market
competitive prices from expert Mitsubishi brand
mechanics and certified professionals anywhere in UAE.
Genuine
Mitsubishi

Accessories

One of the reasons that make us the go-to platform for everything related to Mitsubishi is our expertise. When we say that no one understands a Mitsubishi better than PitstopArabia, we really mean it. Besides our expertise, we offer genuine Mitsubishi accessories in the UAE, making us a customer favourite. If you plan to keep your Mitsubishi genuine for as long as possible, we are the only choice. Contact us for more details and to know what kind of Mitsubishi accessories we have in store right now.