1.

Enter Your
Detail

2.

Receive Your
Quotes

3.

Choose Your
Garage

4.

Leave your
Feedback
Find a specialist local garage in a few clicks
| | |
| --- | --- |
| | Tell us what needs fixing in your car and we will find you the best local garage and the most competitive prices |
| | Sit back and relax. You will be contacted by specialist garages near you with their best prices |
| | Once you have received the quotes from our specialist mechanics, choose the garage for the service you require. |
| | Once the job is finished, please leave a review for the garage you chose and provide PitStopArabia.com some feedback as well |


By:

Ayshah Muhammad

22 Sep, 2020

By:

Ahmed Rostom

22 Sep, 2020

By:

Nadeem Bakshi

22 Sep, 2020

By:

Hafiz Zafar

22 Sep, 2020

By:

Lynn Fraser

08 Jun, 2023
Why choose PitstopArabia for
Peugeot

Servicing In UAE

PitStopArabia is specialized in providing Peugeot car repairing services of all makes and models, across UAE. We have hired professional car mechanics who can fix both major and minor issues of your vehicle. The trained Peugeot specialists strive to deliver the best possible service to customers.
Competitive Pricing

PitStopArabia offers services at
reasonable price and makes sure your
vehicle gets the best service it needs.

Mobile Mechanic

We provide a great Click and
Connect service for customer comfort,
so they can get Peugeot services online.

Comprehensive Solutions

Our certified technicians carry out
the best repairing solutions to ensure your
vehicle is safe and efficient on the road.

Commitment to Quality

The team of car mechanics always
use genuine automotive parts that fitted
to your vehicle requirement.

Convenience

PSA service center is here to
provide the best repair services to fix
your problem whether it is big or small.

Extensive network

PitStopArabia has 100+ service centers across
UAE providing automotive repair service. Get
your car service at the nearest PSA workshop.
Peugeot

Car Repair services in UAE

Wanted to get your Peugeot car repair services from trained mechanics in UAE? PitStopArabia is always at the forefront to provide 100% effective services. Our expert mechanic's top priority is to provide customers a comfortable ride with efficient Peugeot car repairing services. PSA service center focuses on durability, efficiency, and safety, so customers can get a great experience of the Peugeot journey. To have a good driving experience, get your car repaired by PitStopArabia on your doorsteps or the workshop.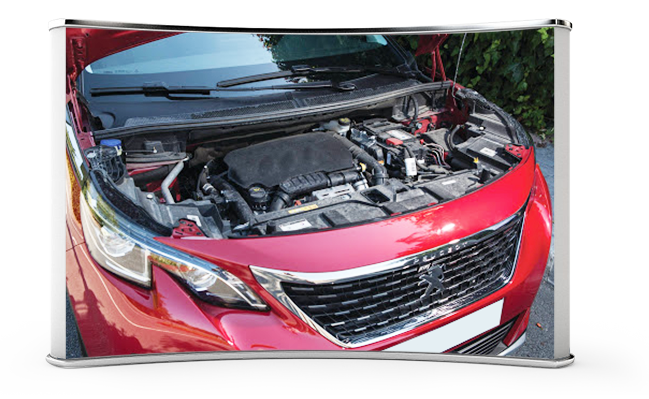 Why Choose Peugeot
Certified


Car Repair Service?

Servicing and regular maintenance of your car is the key aspect of vehicle ownership. This boosts PitStopArabia technicians to provide the greatest possible Peugeot repair services to customers at competitive prices. Regardless of the complex service you choose, our fully qualified technicians always complete the servicing of your vehicle using genuine parts. With state-of-the-art equipment and skilled mechanics, there is no better place to get automotive repair service than your nearest PitStopArabia service center.
Superior Training

The automotive industry is evolving so much. To keep up with the latest technology, PitStopArabia technicians attend vehicle system training to get professionally trained in all angels.

Genuine Parts

A technician trained by car veterans and engineers of the manufacturers ensures you exceptional and outstanding repairs and services for their immense exposure.

Cost Saving

We are offering cost-effective servicing at a competitive price throughout the UAE. Our car manufacturers make sure to keep your vehicle performing at its best.
Common

Repair Issues you may face

Owning a Peugeot 100% hybrid electric cars doesn't mean that drivers will not face any problems. Every car owner want Peugeot's best car repair and maintenance services. The new Peugeot car models are indeed embedded with the latest technology, still, it has some issues to be deal with. Most common issues that continuously occur and bothering owners for a long time are now not a problem for them anymore. Call and get repair services at PitStopArabia. Peugeot specialists are working to overcome these common issues in the future.
Clutch Replacement

The clutch has one of the most challenging jobs to do in your car. When you pressed on the clutch, and the noise is produced, it means something is wrong. In this case, you may need to repair or replace the clutch immediately to avoid further problems. .

Turbo Replacement

Most Peugeot drivers complain about the turbo problem. You wanted your car to perform well and to face as minimum problems as possible? PitStopArabia helps you to avoid turbo related problems by offering efficient services.

Faulty Automatic Gearbox

A faulty gearbox issue is almost in every Peugeot model, which affects vehicle performance. Its repairing might be expensive and can cause further problems. PSA gearbox specialists repair worn, or damaged gearboxes professionally.

Engine Overheating

Overheating issue occurs due to specific reasons, but the main reasons behind engine overheating are cooling system leaks, radiator issues, or broken water pumps. The best option to help avoid problems down the road is to consult experts.

Brake System Performance

The Brake system is a critical safety component and the crucial part of the vehicle performance. Our car repairing workshop offers both performance testing and inspection of your vehicle's brakes throughout the UAE.

Air Conditioning

Your Peugeot car requires regular air conditioning services to eliminate odour smell from the cabin. To avoid the harsh summers hot of UAE, you need to keep your vehicle air condition checked and test by experts near you.