1.

Enter Your
Detail

2.

Receive Your
Quotes

3.

Choose Your
Garage

4.

Leave your
Feedback
Find a specialist local garage in a few clicks
| | |
| --- | --- |
| | Tell us what needs fixing in your car and we will find you the best local garage and the most competitive prices |
| | Sit back and relax. You will be contacted by specialist garages near you with their best prices |
| | Once you have received the quotes from our specialist mechanics, choose the garage for the service you require. |
| | Once the job is finished, please leave a review for the garage you chose and provide PitStopArabia.com some feedback as well |


By:

Ayshah Muhammad

22 Sep, 2020

By:

Ahmed Rostom

22 Sep, 2020

By:

Nadeem Bakshi

22 Sep, 2020

By:

Hafiz Zafar

22 Sep, 2020

By:

Lynn Fraser

08 Jun, 2023
Why Choose
PitStopArabia

For
Porsche Repairs?

PitstopArabia is a leading platform in connecting owners of luxury cars with the right talent in auto repair and services across the UAE. With the ambition of endorsing only the adept mechanics and dependable workshops, we have earned loyal clients. We have a repute of being the most trustable and dependable platform in connecting luxury car owners with the most reliable workers.
Best Quality Guaranteed

We provide the finest repair and maintenance to assure comfy rides in your valuable Porsche.

Countrywide Association

PitstopArabia has a close association with expert mechanics and workshops across the UAE.

One-Stop Solution

Our extensive network makes our platform a one-stop solution for all your car repair needs.

Value For Money

Our competitive pricing clubbed with top-notch quality offers you the best value for money.

Ease and Comfort

With our doorstep services, you avail the ultimate ease and comfort in carrying repairs

Quick Turnaround

PitstopArabia offers you a fast turnaround as our experts have hands-on experience in repairs.
Porsche

Car Repair Services UAE

Every car comes with a cost that is taking care of it. Luxury cars need the care it deserves with timely repairs and regular maintenance checks. Porsche is a dream car and driving it around high towering buildings of the UAE is a lifetime experience for sure. However, finding a competent mechanic or a reliable repair shop for it is difficult. One cannot easily rely on a garage he is not familiar with or served before. PitstopArabia brings you an array of hand-picked, certified Porsche repair service providers in the UAE with mobile workshops to offer door-step facility as well.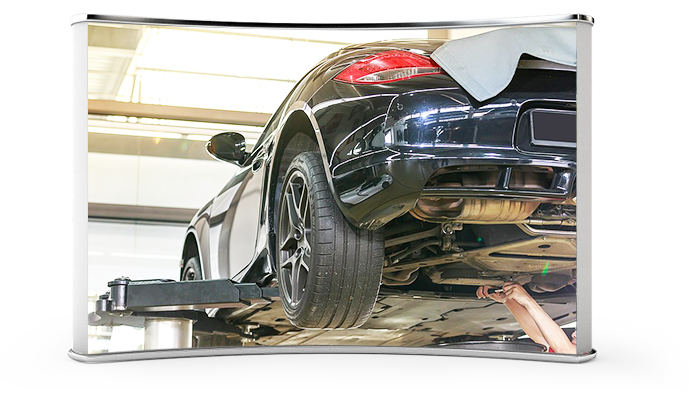 Why Select Porsche
Certified

Repair Services

Finding an auto repair shop is easier, but getting the one that has expertise in handling your Porsche is difficult. You won't allow any random mechanic or a service shop to try luck out of their inability in fixing an issue or carrying the routine maintenance checks. For luxury automobiles like Porsche, you must rely on certified, well-trained, and experienced personnel as they take extreme care in dealing with your car. They know the common issues and how to tackle them.
Trained and Trusted

Allowing a newbie to experiment on your Porsche simply means a bull in a China shop. Prefer trained mechanics and trusted workshops to avoid anyone doing trial and testing on your vehicle.

Authentic Auto Parts

A certified Porsche repair service believes in using only the authentic auto parts. They can recognize the genuine parts as there is not a doubt in precision and perfection.

Cost cutting

A person who is not in the capacity to repair your Porsche may harm it. However, certified mechanics know how to fix things perfectly well rather than replacements
Common

Porsche Repair Issues You May face

Owning a luxury car like Porsche is one part of the game, while its repairs have a different saga to experience. While buying such a car no one is going to inform you about the high spending you may need on its repair as it is understood that you can pay for it. however, you may still be looking for someone who can truly understand such loving machines and have the expertise to fix the common issues. Let's review the common Porsche Repair issues you have to account for as long as you own it.
Engine Oil

Oil lubricates the combustion engine that's why it is a
significant ingredient of your smooth ride. To keep the engine
in good functional condition, it needs to be checked by experts
so that any reduction in oil level can be topped up in time.

Engine Light

Pay heed to the engine lights as they are designed to communicate
any issues in advance. These lights act as indicators for you to take
early action rather than delaying for a major issue. Porsche is also
powered by EBD – On-Board Diagnostic for issue inspection

Braking Issues

Your Porsche is not supposed to create weird sounds like
squealing or squeaking while pressing the brakes. If you hear a
noise, you must consider meeting an expert to get it repaired or
replaced as he suggests. Do not delay in inspecting your car brakes.

Clunking Sound

With every luxury car comes lavishly expensive repairs. A
well-maintained car may not give you weird such that the whole
investment may seem useless because such noise is a sign of taking
care of or replacing certain parts like cradle bushings, shocks etc.

Engine Air Filter

The air filter is installed for ensuring the clear flow of air to
the engine of a car. It needs to be changed or replaced on regular
intervals as failing to comply with the recommended repair practices
may stop the airflow to the engine that may lead to bigger issues.

Leaking Water Pump

The water pump is a mandatory part of a vehicle. Your SUV
also needs it to push water into the coolant system to keep the
engine at a stable temperature. If you notice any leakage in the water
pump, it is the moment to quickly repair any cracks or replace it.