1.

Enter Your
Detail

2.

Receive Your
Quotes

3.

Choose Your
Garage

4.

Leave your
Feedback
Find a specialist local garage in a few clicks
| | |
| --- | --- |
| | Tell us what needs fixing in your car and we will find you the best local garage and the most competitive prices |
| | Sit back and relax. You will be contacted by specialist garages near you with their best prices |
| | Once you have received the quotes from our specialist mechanics, choose the garage for the service you require. |
| | Once the job is finished, please leave a review for the garage you chose and provide PitStopArabia.com some feedback as well |


By:

Ayshah Muhammad

22 Sep, 2020

By:

Ahmed Rostom

22 Sep, 2020

By:

Nadeem Bakshi

22 Sep, 2020

By:

Hafiz Zafar

22 Sep, 2020

By:

Lynn Fraser

08 Jun, 2023
What car
issues

you may face in Sharjah?

Every day you ignite the car and let it heat up so that it can get ready for the commute. You have to spare some time for checking engine oil, water levels, filters, and air pressure. We all know these basic checks, however, there are issues that we fail to recognize so we need expert advice for that. Let us have a look at the common problems you may face in Sharjah.
AC Defects

The AC of your car may stop providing
the required cooling in summer because
of the issues in the cooling fan, or radiator.

Engine breakdown

With improper car maintenance, your car may
break down and leave you helpless in the mid.
Keep engine oil or filter checked regularly.

Slipping gears

The gearbox is a significant element of car.
You may find it shaking while driving, making
noise, creating a burning smell, or slipping.

Brake fail

Issues with your car brakes are quite common
that can easily be recognized. Keep observing
brake light, grinding or squeaking noises, etc.

Unpleasing noises

Your car may produce creaking noises to alarm
you about malfunctioning parts. Paying attention
to these sounds can save you from big issues.

Low Battery

Car battery may go down because of various
reasons. Keep the water and acid levels as
recommended, and get them replaced regularly.
Why you must avail of a
reliable


car service in Sharjah?

Sharjah is one among the biggest cities of the United Arab Emirates, and who would not want to explore it either being a local or living as expatriates or spending vacations. Want to find amazing dining and picnic places without facing any car repair issues? You must rely on professionally endorsed mechanics and garages. Who knows when you may need a car expert to evaluate its condition so that you can peacefully plan traveling within and across the cities? Considering the harsh weather conditions of the summer, you must possess a well-maintained vehicle for the commute. Get the car frequently checked and repaired rather than searching for roadside assistance.

To serve you with the best possible solutions, PitstopArabia has collaborated with pre-eminent mechanics and garages all around Sharjah. With a precise classification of skills and expertise, you can find a car expert nearest to your home or work location or anywhere you are traveling to and from. Use our friendly portal to navigate car workshops and skilled mechanics without spending much of your valuable time.
Car repair services
Sharjah
Sharjah is the third biggest city in the UAE, which makes it one of the desirable cities to visit, live and explore. Thanks to the auto industry that has simplified exploring the sight-seeing places and having our regular commute. Finding a reliable car repair service in Sharjah will not be a struggle for you, however, we have simplified the entire process with PitstopArabia. Now, you can find experts near you while sitting at the comfort of your home or office. All you need to visit our website and enter the required details of the required service and we will manage from there.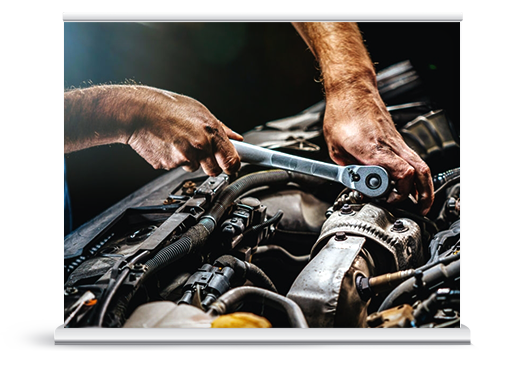 Why PitstopArabia is
trusted

the most?

PitstopArabia is built on the belief of serving the people of Sharjah with the finest auto repair and service solutions. We have earned the trust and credibility because of selecting and endorsing service providers par excellence. Search for an expert with your required skills and have a list of them. Sharp eye to detail, expertise in diagnosing the exact issue, and excellent customer support are some of the quality standards we see in recommending you the service providers. We have garnered a database of top-notch garages, workshops, dealerships, and mechanics. Hire anyone and avail our quality assurance that is fulfilled with our follow-up procedures. Have a look at our core specialties that makes us a priority for customers.
Fast Turnaround

Our amazing customer support ensures a fast turnaround
to facilitate your repair needs without delays. Ask any query
and you are going to get a quick response.

Expert workers

Your access to expert resources in the auto industry
lies in a quick search. We pick only the best of mechanics,
workshops, and garages of the city.

Follow-up Support

PitstopArabia stays with you through timely updates
and notifications to let you know what's happening around
the services you have availed for the car.

Extensive Network

Having collaborated with experts far and wide, we can
furnish a list of experts from anywhere in the UAE. Search
and get results for the area you need.