1.

Enter Your
Detail

2.

Receive Your
Quotes

3.

Choose Your
Garage

4.

Leave your
Feedback
Find a specialist local garage in a few clicks
| | |
| --- | --- |
| | Tell us what needs fixing in your car and we will find you the best local garage and the most competitive prices |
| | Sit back and relax. You will be contacted by specialist garages near you with their best prices |
| | Once you have received the quotes from our specialist mechanics, choose the garage for the service you require. |
| | Once the job is finished, please leave a review for the garage you chose and provide PitStopArabia.com some feedback as well |


By:

Ayshah Muhammad

22 Sep, 2020

By:

Ahmed Rostom

22 Sep, 2020

By:

Nadeem Bakshi

22 Sep, 2020

By:

Hafiz Zafar

22 Sep, 2020

By:

Lynn Fraser

08 Jun, 2023
Shock Absorber Services
in Dubai, UAE
Competitive Pricing

Get the best prices for Shock Absorber services with onsite repair facility anywhere in UAE

Trusted Experts

Leading auto services center have a team of top rated certified technicians and garage with top reviews

Comprehensive Service

Get full inspection of your Car Suspension and get complete repair and replacement options

Over 10,000 daily quotes

Pitstoparabia dedicated team provide tons of quotes every day for clients in UAE

for All types of Cars

We provide shock absorber repair and replacement for all types of vehicles

Fastest Response

Any query in mind? Our dedicated teams is here to respond to your queries in less time
What Is A
Shock Absorber?
A shock absorber is a form of mechanical or hydraulic device that is designed to control suspension and springs of your car. It ensures you a smooth riding experience by removing vibrations that may be created by road humps. The key role of the shock absorbers is to hold the tires intact with the ground that leads to improved safety and an effective braking system. The suspension system of a car mainly comprises of shock absorbers.
It works by transforming the kinetic energy of the suspension system into heat energy which dissolute in the area. It manages the recoiling of suspension to ensure the car tires stay in contact with the road and result in a sound grip. Steering the wheels, accelerating the car, or pushing the brakes all depends on the shock absorbers. Any fault or malfunction in it may lead to a failure.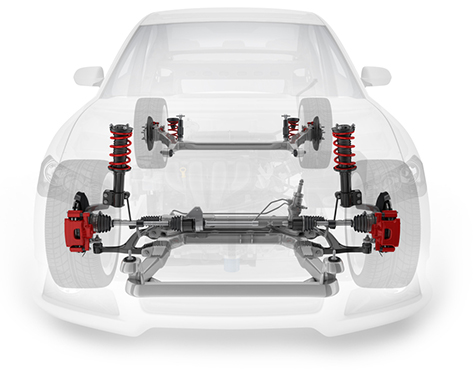 What Are The Symptoms Of A Bad
Or Faulty
Shock Absorber?
The need to repair or replace shock absorbers can be identified through various signs and symptoms.
To be on the safe side, have a look at the signs to know any fault or malfunctioning.
The Signs Of A Bad Shock Absorber Include:
Vibration specifically on the steering wheel while driving the car

The tires show signs of Irregular wear and tear and bubble in drive

The seals become brittle or torn, allowing fluid/oil to leak

When the driver attempts to cease there is longer stopping distance

Car immerses when front upon brake is engaged and makes noise

When Driving on bumpy road the Car knocks upon bumps

The Car bounces and struggles in keeping its contact with the road

Your car mileage starts to decline after 50,000 miles of drive
Shock Absorber
Repair Costs
The cost of shock absorbers repair depends on the make and model of your vehicle. The city where you live and the garageyou select for the repair also matters the most in defining the cost. On average, a shock absorber repair may cost about AED 2000The repair costs may not increase much for different car variants.

Locate
Shock Absorber

Repair Near You

By the time you confirm the faulty condition of shock absorbers, you must lookout for a reliable mechanic or repair shop to have the issues fixed either by repairing or replacing them. Pitstop Arabia has a network of trustworthy garages with mobile mechanics to listen to your urgent repair needs and get them fixed.

To get a price estimate and read about our existing customers' experience, you can fill the post at the top of this page along with details of your car and required repairs. Have your selection in terms of repair or replacement to appoint our services. You can use our price and services comparison tool free of cost.