1.

Enter Your
Detail

2.

Receive Your
Quotes

3.

Choose Your
Garage

4.

Leave your
Feedback
Find a specialist local garage in a few clicks
| | |
| --- | --- |
| | Tell us what needs fixing in your car and we will find you the best local garage and the most competitive prices |
| | Sit back and relax. You will be contacted by specialist garages near you with their best prices |
| | Once you have received the quotes from our specialist mechanics, choose the garage for the service you require. |
| | Once the job is finished, please leave a review for the garage you chose and provide PitStopArabia.com some feedback as well |


By:

Ayshah Muhammad

22 Sep, 2020

By:

Ahmed Rostom

22 Sep, 2020

By:

Nadeem Bakshi

22 Sep, 2020

By:

Hafiz Zafar

22 Sep, 2020

By:

Lynn Fraser

08 Jun, 2023
Why Choose PitStopArabia For

Toyota

Car Repair Services
Best Prices

Our pricing strategy is based on two concepts
– competitiveness and transparency

Expertise

Our workers are skilled to handle
all Toyota cars, old and new

Comprehensive Service

Get all-in-one Toyota repair services
any where in UAE

Daily quotes

We get more than 10,000 quotes for
Toyota services from all around UAE.

Genuine Parts

Replace old, broken parts with
genuine ones and original fitting

Quick Response

Get an appointment near a place of
your choice with just a few clicks
Toyota

Car Repair Services in the UAE

PitStopArabia is a one-stop platform for Toyota car repair services in Dubai. Whether it is a complete overhaul, simple repair, or everyday maintenance, PitStopArabia will meet every need. Our Toyota car repair services include components like the battery, air conditioning, transmission, engine, and a lot more. Apart from this, if you need to repair the vehicle's paint job, we offer services like car paint protection and ceramic coating. For electrical repairs, our workers rely on computerized methods to conduct a complete electrical audit that is safer and 100% effective.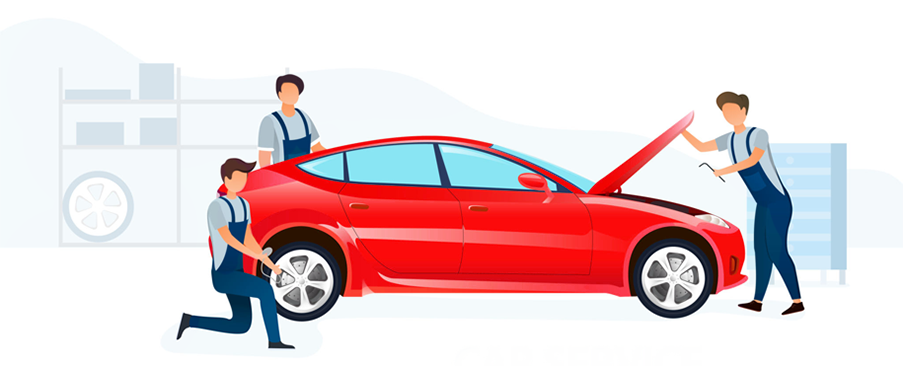 Reliable
Toyota

Car
Repair Services

You can easily get your Toyota car fixed from anywhere in the Sharjah. But 9 times out of 10, the problem will reoccur, or the quality of the repair work is nowhere near the minimum standard. Imagine that your vehicle was involved in a collision and you opted for bodywork repair. You pay good money for the repairs only to find out that the repair and the paint job are a mismatch. Not only have you used up a lot of money, but the car is nowhere near what it used to be. A badly repaired vehicle and mismatched paint further decrease Toyota's resale value. If you want to avoid such issues and ensure your Toyota's durability and performance, you come straight to PitStopArabia. We are a platform that promises the highest quality work in the most competitive rates.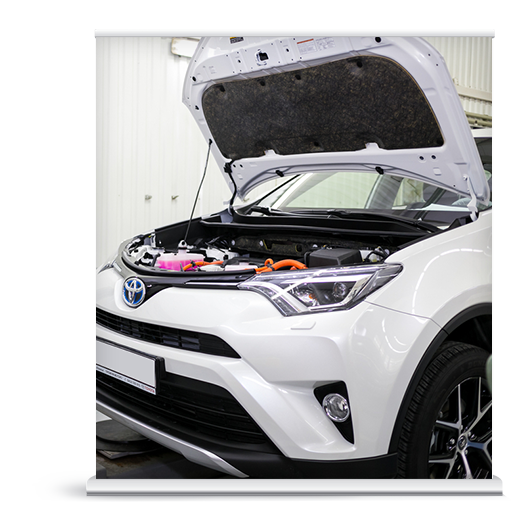 Common Toyota Car
Issues
Car issues are quite common. Irrespective of which car you own, you will always run into issues. The reason is that there is no thing as perfection. Despite the technological advancements and strict quality control processes, your Toyota can run into problems. But that's not a concern because there a problem for every solution. PitStopArabia excels at diagnosing the issue through the use of the latest tools and techniques to determine the issue and fix it. Below, we have managed to compile a list of common car problems in UAE.
Fuel Consumption

Fix excessive fuel consumption by letting our experts evaluate its exact cause. Stop pouring your hard earned money in fuel as we have got you covered with expert services.

Transmission Repair

Leaking fluid or stuck gears, we check to repair or replace the transmission system. We understand the sign language of your vehicle to dismantle only the relevant and specific part.

Electrical Audit

Get an electrical audit to fix any electric problem in your vehicle before it does too much damage. Let the car ignite and move smoothly with our expert repairs and servicing.
Toyota

Services

PitStopArabia offers a wide array of Toyota services that includes but not limited to repair work, minor repairs, and regular car maintenance. We have listed well-trained professionals to provide you expert mechanics for your Toyota make and model vehicle. Visit our 'Service and Repair' section to explore car repair enthusiasts and credible workshops for the specific skill set you are looking for. We assure to provide the most sought-out repair services nearest to your home or work location.
Toyota Recovery

Whether you are stranded in the desert or within the city, we
offer recovery services everywhere. Our large fleet size means
that the wait time is minimal.

Toyota Engine

Irrespective if it is an ignition switch or catalytic converter failure,
our workers will diagnose the problem, come up with possible
solutions, and implement the best one.

Toyota Maintenance

Need to get your brake pads serviced or engine oil changed?
PitStopArabia offers a variety of period car maintenance
services, including electrical work.

Toyota Battery

A faulty car battery means that your Toyota will not start properly,
which can cause unnecessary delays. Avail our Toyota battery
services in Abu Dhabi, UAE to avoid any hassles.

Toyota Oil Change

Regular oil changes prevent contaminants from reaching the
engine and ensuring its longevity. Book your Toyota's oil change
appointment right away.

Toyota AC Repair

Be it summers or winters; the AC needs to be in top working
condition. Avail our Toyota AC repair services whether at a
workshop or through our movbile mechanic.
Genuine
Toyota

Accessories

No one knows your Toyota better than PitStopArabia. We are familiar with the intricate details of your Toyota due to our experience and highly skilled workforce. Additionally, we offer genuine Toyota accessories and spare parts. So, if you plan on keeping your Toyota as real as possible, come to us. Apart from the genuineness, our quality is unmatched. Hence, you can expect a quality finish that will improve the Toyota's durability and performance. Book your appointment right away.