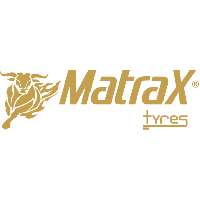 MATRAX TYRES
In the Chinese automotive industry, the Matrax is a new tyre manufactured by Alves Bandeira Tyres, S.A. For being the world's best tyre manufacturing company, its vision is to build the best tyre brand that would exceed the expectations of our customers.
Currently, the Matrax tire is present in over 40 countries around the world. It is developed with innovative technology, rigid quality control, and high safety standards to manufacture quality tyres for the UHP, SUV, 4x4, and PCR lines. By being a world leader in the tyre market, the Matrax tire products range is set out that suits every driver's needs. ... Read more
One of the features that have been used while constructing the tire products includes sophisticated tread that helps to reduce contact noise. Also, it minimizes heat generation and rolling resistance. They are specifically designed to last longer while providing a better driving experience to the drivers.
Buy Online Matrax Tyres In Dubai
With over years of experience in design, engineering, development, manufacturing, and global distribution, Matrax tires in Dubai have earned a reputation for durability and reliability. Since its very beginning over 45 years ago, the Alves Bandeira Group has driven innovation relentlessly.
When the point comes to innovation, Matrax company thrives on creating products through advanced technology, ensuring to provide an exceptional driving experience. They provide safety and performance features of the highest quality, as evidenced by their products
Urcola
Coloma
Morucha, and
Veragua
To achieve customer satisfaction, we focus on four basic pillars that underlie our day-to-day work and vision:
Innovation
Design
Safety, and
Trust
Are you looking for Matrax tyres online in UAE? Now, you can easily find it at PitStopArabia. You can buy Matrax tires in UAE that is designed to offer comfort, safety, and value. So, whether you are looking for the ultimate performance, traction, or pure driving pleasure, PitStopArabia has got you covered. They have engineered tyre pattern that fits your needs.
Matrax Tyres Price in Dubai, UAE
PitStopArabia has more than 6 years of experience in the automotive industry. Its core business is to offer tyres, car repair, maintenance service, and car insurance, with currently over 160 shops spread throughout the UAE.
PitStopArabia is a trusted tire shop and car repair garage that has been providing its services in Dubai, Abu Dhabi, and Sharjah, UAE. Our company prides itself on having qualified and passionate automotive technicians.
We as a company provide all services you need for car maintenance, including the latest equipment, and experienced technicians who are trained and supervised by certified mechanics regularly. It is our mission to design, create processes, and develop technologies that enable us to provide our customers with a great driving experience and the ultimate product. To get authentic Matrax products, contact PitStopArabia and get your new car tyres installed at your doorstep.
Read less