1.

Enter Your
Detail

2.

Receive Your
Quotes

3.

Choose Your
Garage

4.

Leave your
Feedback
Find a specialist local garage in a few clicks
| | |
| --- | --- |
| | Tell us what needs fixing in your car and we will find you the best local garage and the most competitive prices |
| | Sit back and relax. You will be contacted by specialist garages near you with their best prices |
| | Once you have received the quotes from our specialist mechanics, choose the garage for the service you require. |
| | Once the job is finished, please leave a review for the garage you chose and provide PitStopArabia.com some feedback as well |


By:

Ayshah Muhammad

22 Sep, 2020

By:

Ahmed Rostom

22 Sep, 2020

By:

Nadeem Bakshi

22 Sep, 2020

By:

Hafiz Zafar

22 Sep, 2020

By:

Lynn Fraser

08 Jun, 2023
Why Choose PitstopArabia for

Chevrolet

services in UAE

We remain as one of the most trusted car repair service providers because of our huge network of certified garages and countless satisfied clients all across UAE. We understand Chevrolet is a sophisticated vehicle and requires professional care from a certified expert. We also ensure all services offered are competitively priced so you get the best value for money.
Competitive Pricing

Beings a trusted service provider, we
never charge unjustly and always ensure
complete transparency

Mobile Mechanic

If you face and unfortunate and untimely car issue while driving, you can call a mobile repair mechanic right at the spot.

Comprehensive Solutions

From minor repairs, to complete car service and maintenance, we offer comprehensive solutions based on your specific needs

No Wait Time

Simply book a Chevrolet repair mechanic and professional will be on its way to you. No wait time, paperwork, or unnecessary questioning.

Convenience

You can order a repair mechanic at your exact location anytime. This will save your precious time and expense.

Extensive Network

We have the biggest network of garages & repair centres in UAE so you can get Chevrolet professional nearest to you.
Chevrolet

Car Repair Services in the UAE

UAE makes one of the biggest markets and consumer base for world's best automotive manufactures. Its massive economy supports a huge ecosystem for domestic, luxury, sports, and commercial vehicles. With its extensive network of highways, cars are the most common source of commute and transport. Having said that, its sandy terrain and hot climate has created a huge demand for high for domestic and high-performance vehicles.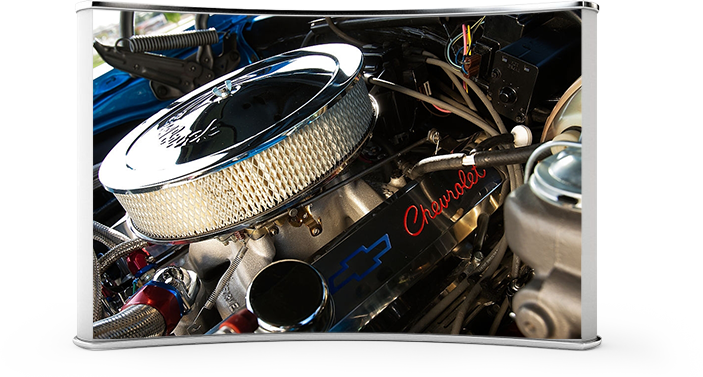 These cars are American made and offer a great range of features to support comfort, luxury, and sustainability. One of the most popular and successful brands is Chevrolet, an American automotive manufacturer that produces a broad range of sedans, hatchbacks, SUVs, coupes, trucks, and sports vehicles. If you own a Chevrolet and come across repair and maintenance issue, you will need a certified Chevrolet repair and maintenance professional. As UAE's leading automotive services provider, Pitstop Arabia can help you connect with the best garages, repair shops, service centres, and mechanics near you in the most competitive rates.
Why Choose Chevrolet

Certified

Car Repair Service

While there are countless repair shops, service centres, garages, and mechanics who claim to be experts in Chevrolet repair, there are quite a few who certified or have every repaired a Chevrolet vehicle. Fortunately, Pitstop Arabia is partnered with the biggest network of Chevrolet trained and certified mechanics who are available 24/7 for guidance and repair. Just give us a call and we will select the best vendor based on your requirements and preferences. Here is why you need a Chevrolet certified repair centre.
Superior Training

Mechanics and garages associated from PitStopArabia have factory-trained mechanics and only use OEM components. To ensure they can handle Chevrolet issues, they undergo rigorous training in repair, replacement, and maintenance.

Cost Savings

With PitStopArabia you can save immensely not just on your car repair and maintenance costs, but also on expenses that might come over time. We offer certified mechanics and top of the line equipment to service and repair your Chevrolet.

Regular Maintenance

PitStopArabia's network of garages and repair centres also offer regular maintenance to ensure everything is running smoothly as expected. You can get in touch with us in just a few clicks and we will give you the best service options.
Most
Common

Chevrolet Problems

Chevrolets are great machines with state-of-the-art technology and top tier luxury features. But that does not mean it is impervious to mechanical or electronic problems. These vehicles are the embodiment of advanced American engineering, but the material components certainly have a life and cannot take extra stress. There are some common issues that Chevrolet owners and users have reported. While these issues have put a question mark on the manufacturers, Chevrolet has been actively improving its vehicles to not just overcome the problems, but offer better comfort, performance, and luxury.
Engine Power Reduced

Many Chevrolet owners have complained about the issues with accelerator pedal and electronic throttle control system. This can trigger a sudden engine power shortage. To ensure your car is working at its best performance, visit a certified mechanic.

High Engine Oil Consumption

For a very long time, Chevrolet engines faced high engine oil consumption problems, particularly from the 2010 – 2014 era. Some engine design flaws led to excessive oil consumption. This led to soiled spark plugs, bent pushrods, dirty fuel filter, etc.

Leaking Coolant

A coolant leak means you are losing the very fluid that cools your car. This can result in a number of problems, starting from engine overheating. This usually happens due to a leaky radiator cap in Chevrolets which causes the coolant to escape.

Transmission Failure

This is the most notorious problem in Chevrolet vehicles. It appears in different instances, where sometimes the gear fails to shift, while on other instances the gear won't go to the next level. To avoid any costly catastrophe, get it checked without delays.

Airbags Malfunction

Erroneous airbag deployment is also a commonly reported issue in Chevys. This happens due to misalignment of springs and steering columns, causing the wiring to break, making the airbag deploy prematurely. A routine check can ensure you full safety.

Key Getting Stuck

While this can happen to any vehicle that has an old or rusty key, Chevrolets owners have reported these problems quite frequently. You can immediately call a car locksmith right at your location through PitStopArabia and get your car key restored.